Locals and residents who want to discover the wild landscapes of Hatteras Island in the wintertime will have a prime opportunity to explore, thanks to the launch for the first-ever Hatteras Village Waterfowl Festival.
The Hatteras Village Civic Association, along with the Outer Banks Visitors Bureau, is sponsoring the first annual Hatteras Village Waterfowl Festival, which will be held on February 22-24, 2019 at various locations throughout Hatteras Village.
The festival kicks off on Friday evening with a "Fin, Feather and Bourbon" event at the Hatteras Civic Center, where attendees can sample fine seafood and fowl dishes accompanied by an assortment of wine pairings and North Carolina bourbons. There will also be a silent auction at the event, with profits benefiting the Cape Hatteras schools' art programs.
During the day on Saturday, the schedule of events will be varied and will be held at various locations throughout the village.
Decoy collectors and bird carvers will be featured at the Community Building, as well as a range of "Teal Wings" activities, (such as a camo egg hunt), which are geared towards the festival's younger guests.
Attendees interested in a Winter Bird Walk can meet at the Hatteras Island Ocean Center on Saturday, while an interactive educational trailer will be on hand, as well as Hawk Manor Falconry, which will feature birds of prey.
Boats will be taking attendees out to see working blinds, and the Cape Hatteras schools' art students will be displaying a show featuring waterfowl, with attendees having the opportunity to paint their own masterpiece with Trish Dempsey at Saltair Images.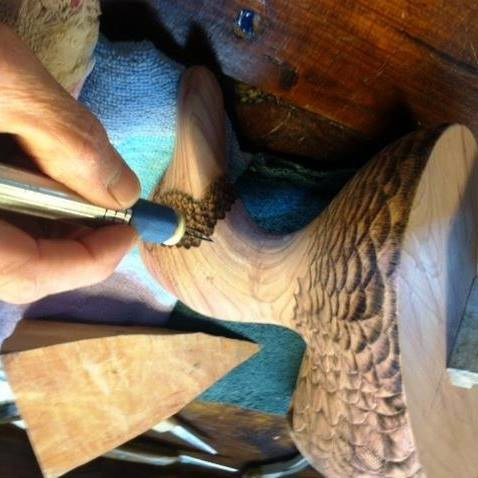 Artists and vendors will also be represented throughout the festival, with a plethora of unique artworks and goodies for attendees to peruse. Dinner will be served on Saturday night featuring local seafood, and attendees are invited to cap off the event with breakfast on Sunday morning before their departure.
Gold Tickets are available for purchase online and at a number of local businesses, and are specially priced for the month of January.
Gold tickets grant attendees entrance to all exhibit venues and all food events, and are all all-inclusive. Day passes are also available for those who would just prefer to attend the daytime activities on Saturday, and ticket prices and event info can all be found online at http://hatterasonmymind.com/HVCA/WaterfowlFestival/index.html.
Tickets can also be purchased at the following local businesses:
Highway 12 Realty, Buxton
Buxton Village Books, Buxton
Frisco Rod and Gun, Frisco
Nedo True Value, Hatteras
Oden's Dock, Hatteras
With ample ways to explore, and plenty of food, fun, and activities lined up for the duration of the weekend-long event, the launch of the Hatteras Village Waterfowl Festival serves as a great opportunity to discover just how wild the island's wintertime environment can be.