A Beachcomber's View: Healing a broken heart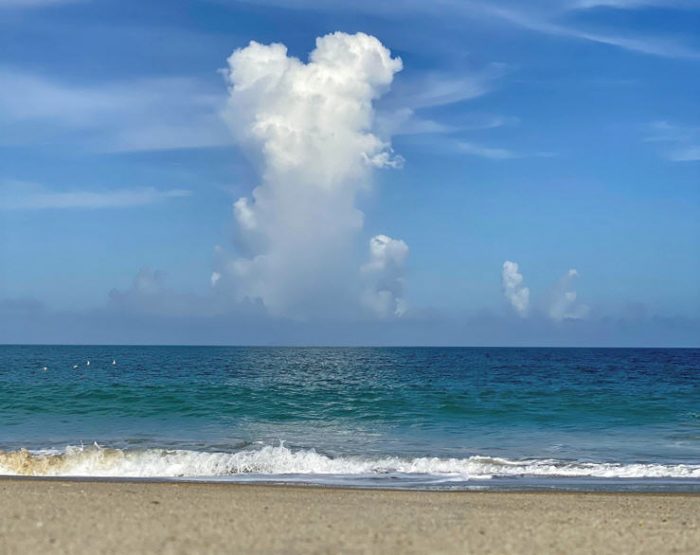 After what seemed like a month-long Nor'easter, I finally made it to the beach for a lovely beachcombing session. Upon arriving at the beach, I immediately noticed a flock of cormorants and some pelicans resting on the shoreline, and I tried not to disturb them as I could clearly tell they had all just been feasting offshore. Whenever I see a cluster of birds like this, I try to put myself in their shoes, not to necessarily think like them, but to figure out why they are there. The shoreline is part of these resting birds' home, and as I am a visitor, they deserve respect. So whenever possible, I try to go around groups of resting cormorants because I know they need their rest after a long, hard morning of hunting and competing for breakfast.
When I walked onto the beach, my arrival was enough to startle the entire flock of birds, which does happen, and I imagine they all think I'm a big coyote or some other predator. They all flew into the water and rode a few waves until I had walked by, and then most of them returned to their resting place on the sand. If there were 50 birds on the beach, then there were triple that number flying and dive-bombing just off the coast. I noticed several migrating Northern Gannets which I always enjoy seeing because they migrate through the Outer Banks, and it always reminds me that even though this type of bird is a winter traveler, spring is right around the corner.
The longer I walked, the more beautiful the scenery became. Several dolphins jumped in and out of the water a few feet from me as I walked along the shore. I always carry a backpack, (this time I had my trusty LL Bean), to collect all the bits of trash that I come across, but this time there was very little to collect. I did carry back a giant piece of foam, probably from someone's floating dock, but nothing too crazy.
As I walked, I found myself thinking about nothing, letting all the stresses of the week and of life melt away, and enjoyed the smells of the salty air filling my lungs and the warmth of the sunlight on my skin.
Then once I felt peaceful and serene, I began to find some cool things. A large, perfect olive rolled right up to my foot, a genuine gift from the ocean. Walking a bit further, I found some cool worm shells, a turkey wing, a few baby's ears, a couple of pieces of coral, and four pieces of sea glass.
I even found a perfect pink Ravenel scallop, which has one side that is super flat, and it is definitely the rarest of the scallop shells to find in our area. Feeling really good about all I had seen and collected, and having only walked an hour with my 20+ pieces of trash and handful of treasures, I decided to turn around and walk back.
My love was with me, and he has also learned the art of beachcombing and has become sensitive to the life of the shore. He picks up just as much trash as I do, even if he isn't on the beach, and is always impressing me with his dedication to clean beaches. I'll never ever forget the time he walked away from the shoreline during one of our beachcombing trips, and walked towards the dunes to collect an old plastic Gatorade bottle. As I noticed him doing this, I saw a piece of plastic stuck in a tire track so I went up to retrieve it, and as I did so, I discovered a glorious amberina piece of sea glass, which is proof that collecting trash while beachcombing will bring you the grandest treasures you can ever imagine.
My partner lost his father on December 11, 2022, and it has devastated his family. They are all trying to heal, trying to find their new way of life without this very special person around, and trying to be normal while grieving this tremendous loss. While we were walking back, my pockets full of joy and a bag full of trash, I noticed a family had started walking in our direction. Now, granted, I am a writer and creative so I often observe something and then make up my own story in my mind – not that I believe it or anything, but I like to make out beautiful scenes in my head of how people live their lives.
This family had a husband who was walking his older mother and she was taking pictures of the dolphins that were insanely close to the shoreline. The dolphins, I think, were swimming in a little deep pocket that had formed very close to the shore, maybe from the Nor'easter, but however the trench had formed, it was impressive how close these dolphins were swimming to the shore. The husband was showing his mom where to point and click with her old-fashioned camera since the dolphins were on the move, and it can be challenging to capture. The husband's wife was slowly walking behind, letting the two of them have this moment, but mainly because their two little girls were really walking slowly as they were collecting treasures.
When we got closer, I whispered to my sweetheart that we were about to give away all our shells and sea glass and he just smiled. I approached the mother with a big smile and wave, then plopped down with the little girls in the sand. I reached into my bag and pulled out all my goodies and laid them in front of the little girls. I told them I found all the shells while cleaning up the beach and was wondering if they wanted them. The girls looked like they were around 5 and 8 years old, and they were the most respectful and sweetest things out there! They were truly curious about what each type of shell was, which I carefully explained, and they listened quietly and intently. The littlest one made sure to pocket her favorites, but only after big sister asked all her questions about them.
After the fun little teaching moment, they both reached into their pockets to show me what they had been collecting. They both were collecting broken pieces of sand dollars. They had 30 tiny fragments each, in their itty-bitty hands, which was simply the sweetest and cutest thing ever, so you're darn right I left all my treasures for them. They said thank you multiple times and I wished them well.
As we walked away, I glanced back, and the entire family was crotched down around the pile of shells and the little girls seemed so happy and excited and I could feel every inch of my soul brighten. I felt lighter. I certainly felt happier and it all came from the beautiful beach.
Once we got back into the car, I told my partner that I noticed something was missing from the family. He looked at me perplexed and I said they were missing "Grandpa." Maybe I was completely wrong and maybe it is all in my head, but the son was clearly with his mother, and his wife was with his daughters. They were walking away from the other people on the beach, to a more secluded area, I thought, to be alone together and heal because the son's dad, the mom's husband, the daughter's father-in-law, and the daughter's grandfather was missing from this tender scene.
I just couldn't help but relate and so I shared that with my sweetie. He looked at me in complete agreement, but the next thing he shared with me solidified why I beachcomb and why I hope I will always be fortunate enough to have the magical powers of the ocean by my side. He told me that our little walk helped heal his soul some. He didn't cry when I shared my thoughts about the family, but he believed the beach walk allowed him to let his subconscious unwind some. He connected to himself to the earth and let his mind clear for the first time since his father's death and he allowed to ocean to help heal his heart.
This is why I beachcomb.
I was depressed in my early 30s and didn't really know it. I have a generally positive outlook on life but things weren't going the way I had wanted them to, and I was having a hard time feeling "right."
I discovered that after I would finish beachcombing, I would feel so much happier and stronger that I could focus on the things that were bothering me in life. I discovered who I was and eventually became the person I wanted to be, and have a life that makes me happy, every day.
The most surprising thing to me is how much I have gained from walking the beach and it most certainly is not just the cool treasures that I find. Whenever I have a good session, which entails picking up a lot of trash, I have an overwhelming sense of a job well done, but more so, that I am doing exactly what I was put on this earth to do. Most of time, no one else is out there to witness the incredible amount of trash I've hauled off in the past decade, but I don't need approval from others to do this. My rewards come directly from the ocean, and the ocean never lets me down.
All these new feelings and new discoveries changed my perspective during my depression and I was healed. I felt whole and happy, ready to face life and all the curve balls it throws at me, and I owe it all to beachcombing.
There is an unexplained feeling of freedom, peace, and love, even if you walk alone, and even if you feel completely alone. There is something about beachcombing that can and will heal a broken heart.
About the Author: Kristin Hissong is a North Carolina native, a UNC Charlotte graduate, an Outer Banks resident of nearly 20 years, and a dedicated, "professional beachcomber." She has spent more than 20,000 hours walking on both our local shores and shorelines around the Eastern Seaboard, and has collected thousands upon thousands of items from the Atlantic Ocean. 
For the past decades or so, she has been beachcombing on Hatteras and Ocracoke Islands every day, collecting both treasures and trash on her routine expeditions. From typewriters to coffee makers, fishing rods to recliners, if you name it, there's a good chance she has seen it washed up, and has hauled it back to her collection, or to the closest dumpster.