Avon Benefit Concert raises more than $10,000 for the Hatteras Island Rescue Squad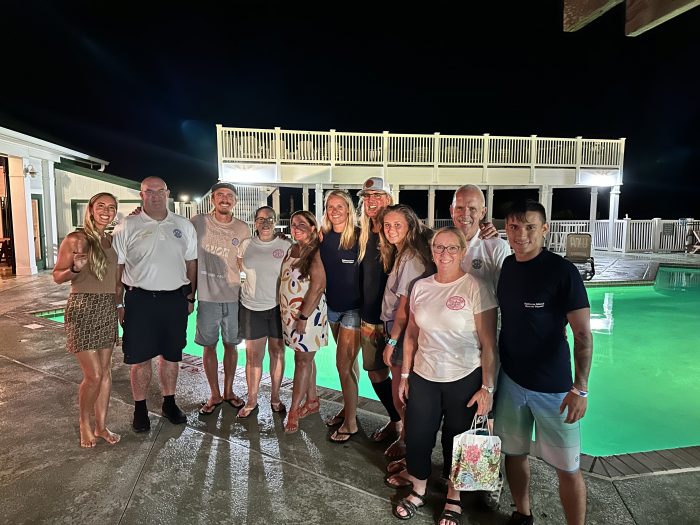 An August 17 "End of Summer Party" and benefit concert at the Koru Beach Klub in Avon raised more than $10,000 for the non-profit Hatteras Island Rescue Squad, in an effort to help the organization purchase a new rescue ski.
The Hatteras Island Rescue Squad (HIRS) is a familiar presence on the beaches of southern Hatteras Island throughout the summer months, as the roughly 30-member volunteer team routinely patrols the shoreline and conducts hundreds of water rescues every year.
But the organization does a lot more than just provide a safe shoreline for beachgoers from Avon to Hatteras to enjoy. HIRS regularly assists the Dare County EMS and other authorities in emergencies and accidents, and also provides public-facing services, like regular CPR classes or education on rip current safety.
"We have been doing some sort of fundraiser every year for the past few years," said Elijah Thompson of Avon's Koru Beach Klub, which has the room and facilities to host large concerts and events. "Since the Rescue Squad uses the areas near the [Beach Klub and the Avon Pier] as their main home base, it made sense to partner with them and see what we could do to help."
"Throughout the summer, we got to witness just how hard they work, and how many lives are impacted because they are patrolling the beaches," he added. "It's an all-volunteer organization, and I don't think many people realize that."
A team of five was responsible for launching the fundraising concert, which included Joe Thompson, Elijah Thompson, and Ellisa Thompson from the Koru site, and Michelle Scarborough and Maggie Williams from HIRS.
"We were the magic five," said Ellisa Thompson, "and it was a great event and a great turnout. There were about 350 people, and so many people came out to support the Rescue Squad."
"It also gave the [HIRS] a platform to talk to the community," said Elijah Thompson. "To get Chief Jack Scarborough on stage, and talking to the community about what they actually do, was amazing… They perform hundreds of rescues every year, but they also do so much more."
The fundraising initiative was able to reach the $10,000 goal – the estimated cost of a new rescue ski – in a range of ways. Concert ticket sales went to HIRS, as did a portion of sales from the local food truck, So Sweet OBX. Surf or Sound Realty donated $2,000 before the concert was even underway, while Joe Faulk of Kinnakeet Shoppes donated an additional $500 after the concert, to edge the total funds over the $10K goal line.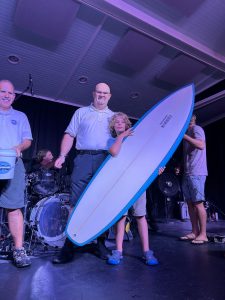 Another big contributor to the fundraising success was the raffle, which featured 18 different packages from local businesses, including a big and coveted prize of a custom surfboard donated by Avon Shaper Rich Corbin.
Donations were also accepted in casual receptacles stationed throughout the Beach Klub facilities, and the combination of supporting a local cause and the amazing music provided by local band Raygun Ruby brought out the islander crowd.
"Raygun Ruby did such a great job with the music," said Ellisa Thompson, "and I was shellshocked at the amount of people who came out. So many locals who had never been to the Beach Klub came for this event… Everyone was dancing, and conversing, and there was a lot of camaraderie, and it felt like it was more than just 'We're here to party for Zoso,' or another summer concert."
"It was a local love fest," added Elijah Thompson.
The total amount raised from the event was $10,050, but everyone involved hopes the event, which attracted hundreds of attendees and lots of attention – will keep the Hatteras Island Rescue Squad in the spotlight for a long time to come.
"Having the right equipment and a functioning jet ski is more important than people realize" said Elijah Thompson. "But having our local community support and rally around this organization is even more important."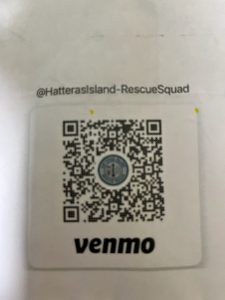 How you can help
For more information and to make a donation to the Hatteras Island Rescue Squad, visit the organization's Facebook page at https://www.facebook.com/HIRS35. The HIRS Facebook page also has daily beach conditions and ocean reports in the summer months. 
Donations can be sent via a check, and also through Venmo (@HatterasIslandRescue).