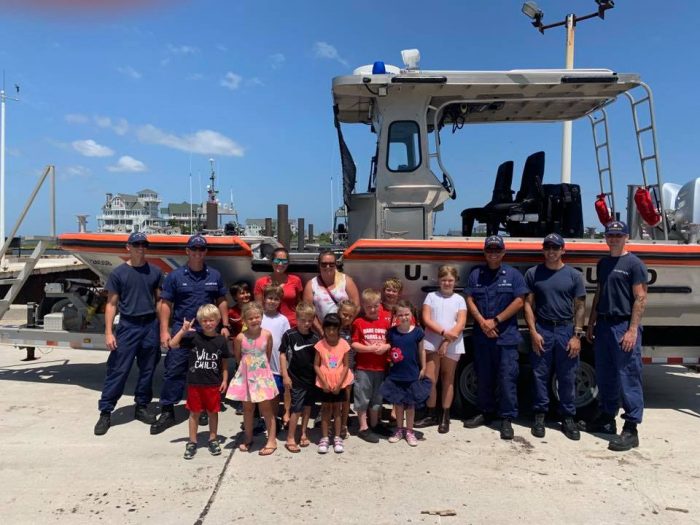 On Thursday, July 25, members of the U.S. Coast Guard Station Hatteras Inlet welcomed a small team of potential new recruits when the children of Kyle's Munchkin Academy in Buxton paid a visit to the Hatteras station.
This is the second year in the row that children from the local daycare center were able to take a tour of the Coast Guard facilities, and is one of many outings and events that links the Hatteras Coast Guard Station with the community.
"The members here are always excited about any [community] event we are involved in, and the kids were excited to visit, too," said Josh Welsh of Station Hatteras Inlet. "We tried to do things that were relatively simple, but which could also be fun for them to do."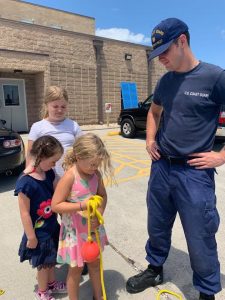 The children had paid a visit to the Hatteras Island Rescue Squad earlier in the summer, and Coast Guard crew members were impressed with how much they had already learned about water safety. During the visit, the kids also learned how to throw a heaving line, (a tow line for disabled vessels), assisted with a de-watering pump demonstration to prevent sinking, and explored the facilities. They also garnered an introduction to what the U.S. Coast Guard does in local waters, and even received a tour of a boat at the station.
"A lot of the kids seemed really excited about the Coast Guard afterwards, so that's always a good thing," said Welsh.
The summertime Kyle's Munchkin Academy visit joins a long list of events where local Coast Guard personnel connect with Hatteras Island residents of all ages. In the spring of 2019, crew members launched a program to provide tutoring and assistance at the Cape Hatteras Elementary School, and the station regularly provides color guard services for little league games. Last year, crew members also provided an escort for the Hatteras Community Preschool's annual Halloween Parade, creating an impromptu barrier in between the young parade participants and N.C. Highway 12.
Residents and visitors will continue to see the Coast Guard Station Hatteras Inlet at local community events in the not-so-distant future, including the annual Day at the Docks celebration in September, where the Coast Guard's docked vessel and demonstrations are always a big hit with attendees.
"It's a small community, and we really enjoy being part of it," said Welsh. "This last winter when we had the federal government shutdown, the community rallied around us and offered a ton of support."
"We've just received so much support from this small community, so we really enjoy any opportunity we can to give back."