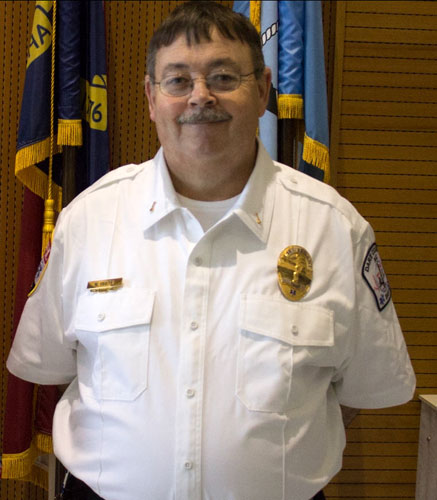 At the Dare County Board of Commissioner's Meeting on February 4, Avon resident Kenny Brite received his 15-year service pin for his lengthy and dedicated work with Dare County Emergency Medical Services (EMS.)
But talk to any Hatteras Island local who knows Kenny Brite, and they will attest that his years of service for the island community goes back much further than that.
Brite first moved to Hatteras Island on March 17, 1993, after a few years of living in Kill Devil Hills and Elizabeth City. The date is imprinted in his memory for one signature reason – it was four days after a severe March storm blistered the town of Avon, providing his first introduction to extreme weather on the southern Outer Banks.
"The March storm had just come through the area when I moved here, and then Hurricane Emily hit in August," says Brite. "So I learned a lot about storms my very first year here."
Brite originally moved to help set up the new, (but now long gone), restaurant at the Avon Pier, and continued to work in construction and as an electrician in the years that followed.
But Brite was always hardwired for community service, and it didn't take long for the new resident to find a niche in helping the community. He joined the Avon Volunteer Fire Department in 1994, and joined the Hatteras Island Rescue Squad (HIRS) in 1999. His work in construction and his volunteer roles in community service suited him, and fit in perfectly with both the laidback lifestyle he was looking for, as well as his inherent inclination to give something back to his hometown.
Then, two years after he joined HIRS, an event occurred that changed his entire career path.
On September 4, 2001, Brite was across the street from the Avon Pier at around 6 p.m. when a call came into the Hatteras Island Rescue Squad that a person was bleeding on the beach next to the pier.
Brite was one of the first individuals on the scene. When he arrived on the beach, he encountered a 28-year-old man and a 23-year-old woman who were bleeding profusely on the sand. The couple was visiting from Virginia, and had been swimming just off the Avon beach close to shore, prior to the call.
Brite and the other personnel who arrived on the scene quickly realized that they were dealing with a fatal shark attack.
The man did not survive the attack, but the woman, despite sustaining substantial wounds to her lower torso, was able to be flown off to the hospital in Norfolk and survived.
It was a life-altering moment for Brite, who was actually debating at the exact same time whether or not he was going to take an EMS class the following week.
"It was a gruesome scene, and my first aid kit didn't have everything that we needed," he says. "That's what sparked the interest in going into the medical field – being at a loss of doing everything possible [to save them.]"
"We did save the girl, and we did what needed to be done, but I wanted to be able to do more," he adds.
Brite started his EMS training the following week, while the Avon shark attack dominated headlines. While Brite sat in a classroom, he was prominently featured on virtually every major news network and newspaper in the world.
He also sat in a classroom at his EMS class just days later when 9/11 occurred, which understandably took over the shark attack news cycle, and which strengthened his resolve that he was making the right decision in his future career.
Brite would inevitably sign on with the Dare County EMS in 2004, but despite having a primary position in providing service and support for his community, his volunteer work outside the job simply grew in the years that followed.
Brite helped to literally launch the annual Independence Day Fireworks display off the Avon Fishing Pier, after a conversation with a colleague who raised funds for the inaugural event. Brite orchestrated the first fireworks launch in 1999, and continued to spearhead the 4th of July display every year until 2010, which was a year after the deadly fireworks explosion in neighboring Ocracoke Island.
He also initiated the Hatteras Island Community Emergency Response Team (CERT) shortly after Hurricane Irene devastated Hatteras Island in 2011, after he noticed a need for immediate response in all mediums in the days that follow a storm.
"That was my baby," he says. "It was day three after Irene, and Denise Gaskins said that we need to feed these people [in Avon,] and we started to schedule a plan. It began as a grassroots event, and then we decided that we had to be more organized before the next storm, and that the effort had to be island-wide – and not just in Avon. That's what started CERT."
The CERT team currently has 42 active members, and a regular and annual training schedule.
In the storms that followed Irene, CERT has helped with every aspect of the hurricane recovery process, from organizing the shipping and distribution of much-needed supplies, to removing stinking piles of seaweed from residents' yards.
"It has really become a pretty strong group, and our people really like doing [the work]," says Brite. "That immediate response after a storm is where CERT really shines."
As for his full-time job in the Dare County EMS, Brite has received accolades from residents all across the island for his quick thinking, patient nature, and ability to stay calm under the highest amounts of pressure.
Naturally, living in a small community, his EMS position means that he has to deal with emergency situations that entail people he knows – but Brite is able to remain focused, and to consider this familiarity an overall positive attribute.
"When it comes to people you know, sometimes it does strike you, but it doesn't stop what you have to do. You have to do the job," he says. "My theory is, 'I'm here, I can only make things better, I'm not going to make things worse.' I've got to go in there and give it my all. Sometimes you have to break bad news, and I would rather it come from me, if it's someone I know and love."
Brite is a busy man.
He's still active in the Hatteras Island Rescue Squad, Hatteras Island CERT, the Radio Hatteras Board, and the Fessenden Advisory Committee. Clearly, his original inclination to help his local community has not dwindled a bit since he first moved to the island more than 25 years ago.
But Brite takes it in stride, and doesn't expect to slow down anytime soon.
"Honestly, I'm not stretched quite as thin as I used to be," he says. "It's very rewarding, and I couldn't do it without my wife being supportive – she does her part too."
As for why he does so much, both at his naturally high-stress position as a Dare County first responder, and as a driving force behind so many local organizations, Brite is modest, and just chalks it up to who he is, and what he does.
"It's always been in my nature, and it's how I was raised," he says. "It's how our family has always been."
And though Brite has been working hard for the EMS for a solid 15 years, (a milestone for any county employee), he'll continue his job and his life in Avon for the indefinite future – a long-term plan that's good news for everyone on the island.
"If they get a big enough stick, they'll run me out of here," he says. "It's a simple and laid back kind of lifestyle, and it has always been appealing. I made a few good friends early on, and that made it easy to live down here."
"I have family, friends, and the right lifestyle, and I'm not going anywhere."