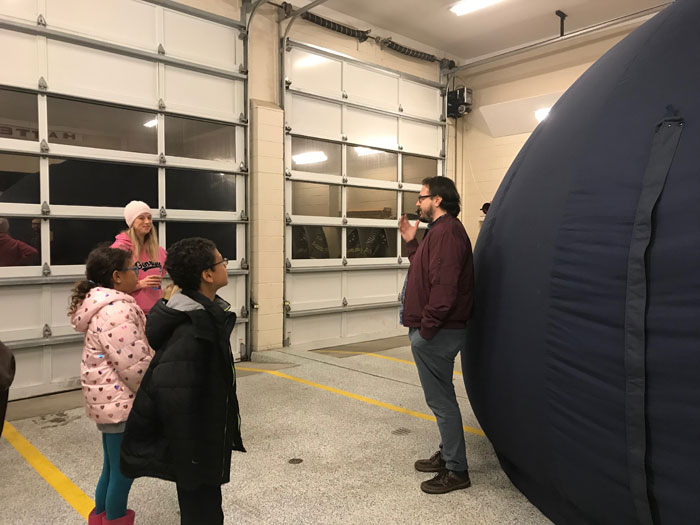 Hatteras Island is home to some of the darkest skies in not only the state, but the country as well. From our unique vantage point, glimpses of remarkable constellations such as Orion's belt, Taurus the Bull, and even the Pleiades can be seen on a clear night. Indeed, with the right tools, folks on Hatteras Island have the advantage of seeing more of the night sky than most, giving us more opportunity to explore the stars and make new discoveries. With this and Hatteras families in mind, the Fourth Annual Starry Nights was formed.
Alana Harrison of the Hatteras Village Civic Association, in conjunction with staff from the Morehead Planetarium and Science Center, coordinated and ran the event this year which centered around space exploration and STEM education for the younger generations of Hatteras Island.
Friday night consisted of a space party complete with showings of the "Magic Treehouse Space Mission" movie, and a movie on black holes. On Saturday night, kids from two to teenagers got to explore space-themed crafts, tinker with robots, and gaze at more than 2,000 stars in the mobile planetarium. The event was free to the public, and occurred to the tune of a space-themed playlist, while participants enjoyed pizza imitating flying saucers.
"I really wanted to [include] families this year since, February is such a tough time around here. I thought it would be nice to have a free dinner and get the kids out of the house," said Harrison.
Staff from the Morehead Planetarium and Science Center, Hope Thompson and Nick Eakes, ran most of the evening. They travel to schools across the state all year round with a mission to bring science education to all of the people of North Carolina. Besides facilitating Starry Nights, they also host family science nights and events for small children where they emphasize the importance of STEM education.
STEM stands for science, technology, engineering, and math. It has grown in popularity in the educational system in recent years, as educators have realized the urgent need to make these often-neglected subjects a priority early on. Many believe that STEM education is critical to making the U.S. competitive in a global economy. Therefore, it's believed, students learning to hone their skills in these areas at a younger age will be more successful in a science-based field and will ultimately advance the country's global standing.
Through the "Science on Your Street" (SOYS) program, created a little over a year ago, the team out of Morehead brings advanced technological tools like robots and iPads all around N.C. to encourage scientific creativity and technology exploration for kids. Thompson visited Mrs. Del Monte's science class at Cape Hatteras Secondary School on Friday to show off the new Cubelet robots, which later made an appearance at the Starry Nights event.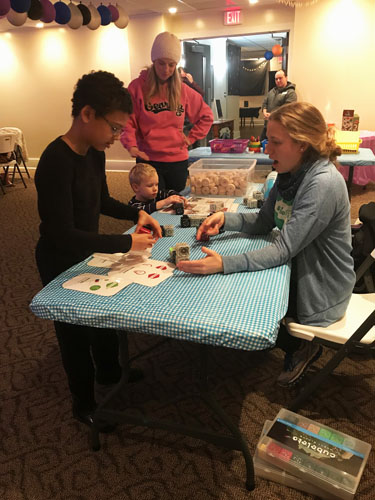 The SOYS program focuses mostly on the technology and engineering branches of STEM, as these are the disciplines which require a lot of practice and problem solving. Scientists often have to problem solve when on the job, moving various parts around to see what works, which is why building robots is fundamental to helping kids prepare for a career in science. Besides its career benefits, kids can also learn life lessons. Working with robots quickly teaches kids to work through their failures, as a robot may not operate on the first try. With room to explore, the program expects that kids will build up the confidence to make mistakes and try again.
"Robots can be really intimidating, but learning science is really important for going forward in life, and especially in a scientific career," said Thompson.
Due to rain and cloud coverage on Saturday night, the stars were not visible via telescope. Therefore, an excited audience huddled into a mobile planetarium in the Hatteras Village fire house for a presentation on the sky view from Hatteras Island. From inside the planetarium, Eakes was able to speed up and slow down time, zoom in and out on constellations, and jump from planet to planet to much exclamation. With the intention to inspire future leaders in science, the presentation ended with a discussion on the Milky Way, along with its super massive black hole, as well as shooting stars.
There are so many opportunities on Hatteras Island to explore different areas of science, particularly astronomy. The Fourth Annual Starry Nights in Hatteras Village gave kids the opportunity and the inspiration to do just that. With the help of this event, the future generations of this island might be encouraged to make discoveries about the world beyond us.