Hatteras Island Cancer Foundation – In the Beginning, Today, and Tomorrow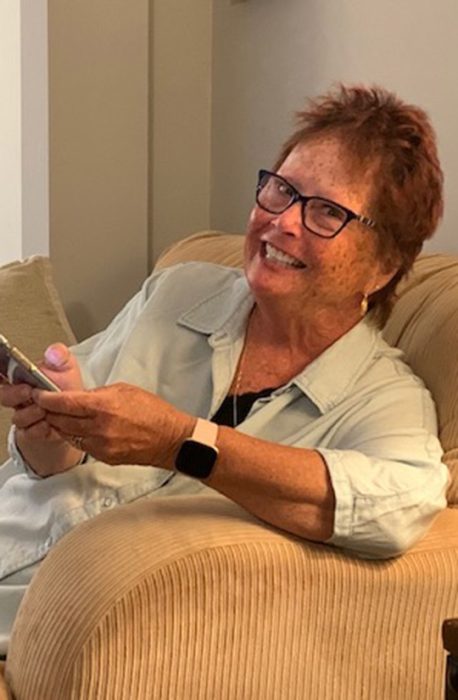 By Donna Peele
A statement from the Hatteras Island Cancer Foundation Board: On the morning of Saturday, October 14, 2023, Donna Peele succumbed to breast cancer at her home, surrounded by her son and family. After many hard years of battle, her devoted family and her loving community will remember her smiles during the difficult times. Her positive attitude, her constant care and concern for others, and her dedication to the Hatteras Island Cancer Foundation says a lot about who Donna was. Please honor her memory by continuing to support the ongoing good work of HICF.  Nothing would please Donna more.
Editor's note: The following is a story by Donna Peele for the upcoming Volume II of "A Hatteras Anthology," expected to be published in 2024. The Island Free Press is honored to share her words.
In December of 2000, several of us from Hatteras Island came together to discuss the growing needs of cancer patients and their families. Our greatest strength, we soon realized, was the ability to help friends and neighbors as they faced this disease.
A cancer diagnosis is difficult enough without compounding this with our geographic location. We are a remote barrier island, and at that time, we were more than 2 1/2 hours from any hospital or cancer treatment center. We had experienced the cancer journey with loved ones and knew the hardships they faced.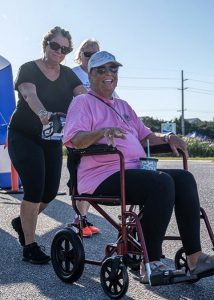 As the Hatteras Island Cancer Foundation (HICF) was formed, we struggled with how best to help. What were the greatest needs of our communities? Obviously, financial assistance was critical, as was assistance with the expenses of traveling – accommodations, gas money, eating away from home – all valid, but how do you move forward?
The HICF has always been blessed with volunteers from all walks of life. We had originally set up with the help of Dr. Al Hodges as medical liaison, and with people who had either experienced cancer themselves or with someone in their family. They wanted to help! Since the beginning we have had nurses, pharmacists, business owners, social workers, teachers, and many others – all bringing great ideas and insight to what the Foundation needed to be.
During the first few years, the HICF spent a huge amount of its time and effort on various fundraisers. The first, and most popular, was the Spring Dance, always a great gathering for all villages with good food, good music, and good times.
Support from the community was key. The charter boat industry and local restaurants jumped in with the Big Rock BBQ and other fishing tournaments. Even the little kids, with lots of help from their families, chipped in with Coins for Cancer. I can't tell you how many rolls of nickels, dimes, and pennies we have rolled! A 5K Run was established and is still held each year. Again, as the saying goes, "It takes a Village," and in our case, it took seven of them!
The Foundation set up an application process that helped identify people who needed help. A couple of board members became experts in reading insurance and hospital statements – no small feat! Payments would be made to the doctors, laboratories, or hospitals. Patients could turn in reimbursement requests for travel expenses for themselves and their caregivers. Mileage was paid. Meals and accommodations were reimbursed.
The Hatteras Island Cancer Foundation continued to grow. It worked with other organizations already established on Hatteras Island, and was able to give guidance to those that did not know of these other opportunities. These organizations included the Cape Hatteras United Methodist Men, the Cape Hatteras Electric Co-op, various churches, and the list was constantly growing as HICF continued to harvest these opportunities.
The opening of the Outer Banks Hospital in Nags Head in 2002 was huge news for the island. As the hospital continued to identify needs in the communities, and they continued to grow, they began an effort to create a Cancer Center for the area. The Outer Banks Cancer Center opened in 2010. This was more huge news for the people of Hatteras Island who now had a closer option for care.
The Cancer Center added services such as Nurse Navigators, Cancer Resource Center, dedicated radiology services, and more. HICF immediately cultivated relationships with the people heading these efforts. Our volunteers began to work with the Nurse Navigators to help the cancer patients on the island understand and take advantage of these new services. The Outer Banks Hospital provided mental health support with self-help groups, lectures from involved medical personnel, and many other outreach programs.
HICF followed these examples and created an outreach program for the people of the island that met monthly. These meetings were opened to the public and included speakers from the local oncology office, a dermatologist to talk about skin cancers and the dangers many of our watermen face from exposure to the elements in their jobs, and social workers from other agencies to help people become aware of the other resources available to them.
The HICF continued to evolve in the years that followed. It continued to up its game to care for people today, but was also concerned about tomorrow – the people who would need their help in the future.
In 2017, HICF partnered with the Outer Banks Community Foundation to create an Endowment Fund that would allow people to contribute to the Community Foundation either through donations or through their wills and estates. This would create the opportunity to ensure funds for the future. Also, through the Outer Banks Foundation, HICF was able to receive a marketing grant that allowed the Cancer Foundation to update its website, providing an opportunity to fill out a grant application online, to make donations online, and to request the medical equipment they may need. Currently, HICF maintains an inventory of Durable Medical Equipment ranging from walkers to wheelchairs, potty chairs to hospital beds. The equipment can be borrowed from anyone on Hatteras Island at no cost.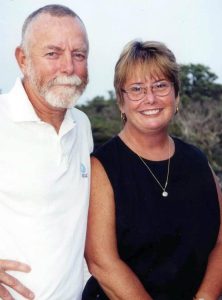 Today, there are many social platforms that allow employees to participate in workplace giving which sends donations directly to HICF on a regular basis.
In late 2018, I was diagnosed with Breast Cancer. I immediately had a greater understanding of how valuable the Cancer Foundation was to Hatteras Island.
Within two months I had to meet the medical deductible for 2018 and then immediately had to meet the deductible for 2019.
In 2020, I was diagnosed a third time, and again had to meet my insurance deductibles. I was one of the fortunate people who had decent insurance. Not only was receiving another diagnosis before my hair had a chance to grow back devastating, I was also overwhelmed when I realized how quickly I had depleted my savings.
I wrestled with whether I should ask for assistance… surely there were people who needed this help much more than me. Members of the group came and talked with me. They reminded me that, from my years on the HICF Board, I, of all people, should realize that is exactly what their mission was – to help cancer patients and their caregivers fight this terrible disease. They reminded me of the huge support we have from the communities that allows the Foundation to help all people, not only with help covering non-insurance medical costs, but also with the expense of traveling to and from the chemo and radiation appointments.
As I navigated the twists and turns through these last several years, I have often reflected on how fortunate it is to be su
rrounded by so many people who care, who want to help, and who have supported me through this journey.
What comes tomorrow? What will the needs of the people of Hatteras Island be? Unfortunately, cancer continues to be diagnosed in ourselves, our loved ones, and our friends.
But the Hatteras Island Cancer Foundation will continue to grow. Currently, they have assisted hundreds of cancer patients with assistance totaling well over one million dollars. They will continue to partner with the Outer Banks Hospital Cancer Center, but also with other treatment centers, the ECU Health Care Center in Greenville or Virginia Oncology Associates with locations in Elizabeth City, Chesapeake, Norfolk, and the Hampton areas, as well as other centers as individual diagnoses lead to new and innovative approaches.
It has been my honor and my pleasure to have served on the Hatteras Island Cancer Foundation. I am also humbled and grateful to have been a recipient of HICF.