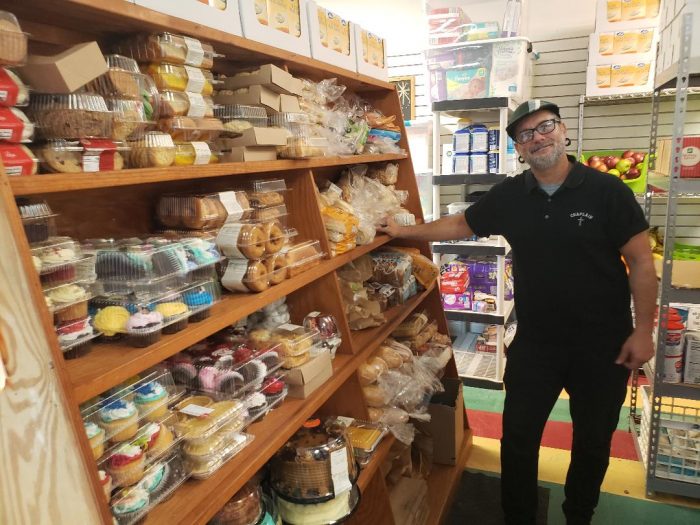 The Lifeline Outreach OBX Center in Salvo has grown by leaps and bounds since it first began in a storage closet at the Lifeboat Community Church in 2006.
Now housed within its own building, complete with a thrift store, separate food pantry, and even a personal greeter in the form of Charlie the cat, organizer and administrator Rev. Wade Weigel says that the center continues to aim for even higher aspirations in the year ahead.
"Essentially, our goal for 2020 is to purchase this building, to expand our capabilities and services dramatically," says Weigel. "We want to do a whole lot more, and specifically, we'd like to establish a crisis center for women and single mothers."
Weigel volunteers at the Outer Banks Hotline Crisis and Interventional and Prevention Center in his limited free time, which helps domestic abuse and sexual assault victims throughout the Outer Banks.
But Weigel says there's a definite need to offer similar services south of the Bonner Bridge as well.
"Outer Banks Hotline is a fantastic organization, but its closest [center] is in Manteo," he says. "Where can people go here, on the island? Where is their safe environment, and who is going to stand beside them while they're starting over?"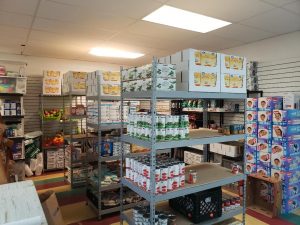 Purchasing the two-story building in Salvo, which has three two-bedroom apartments on the top level, will be a big step forward in Lifeline Outreach OBX's long-term goal, for certain. But in the meantime, the center stays busy all year-round helping with a wide assortment of needs throughout the Tri-village community and beyond.
And in 2019, one of the biggest needs that the center tackled was post-Dorian storm recovery.
"After Dorian, we served as a major hub for [northern Hatteras Island]," says Weigel.
In the days and weeks that followed the September storm, Lifeline Outreach OBX, in coordination with the local fire departments, churches, and other organizations and volunteers in the Tri-villages, delivered 38 trailers of supplies to Hatteras and Ocracoke islanders in need. The team even sent supplies to Ocracoke just 36 hours after the storm hit, via a partnership with Fair Haven UMC, and an ensuing boat ride across Hatteras Inlet to their island neighbor to the south.
They helped establish the Blessing Market in Hatteras village, and worked with CERT and other island organizations to identify and deliver much-needed donations. They even set up an Amazon Wish List so that off-island donors could easily select and send supplies.
And because of this extensive storm response, as well as growing partnerships with organizations throughout the islands, the center is even stockpiling supplies for future nor'easters or hurricanes, so that they can be prepared when the inevitable next disaster hits.
"Our goal is to have plenty of supplies on hand so we can respond immediately, and nobody has to wait for help," says Weigel. "We're always looking for ways to grow."
Weigel also attests that the effects of a hurricane like Dorian, (which effectively shut the island down for several weeks), last well after the storm passes.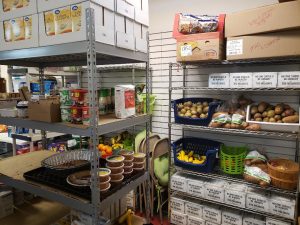 "People think that because folks have cleaned up and have started to rebuild, that everything is back to normal," he says. "But in communities like ours, storms like Dorian also mean it's the end of the tourism season. That's why when people ask how long recovery will last, I always say 'until the next [visitors] season, when people can get back to work.'"
Weigel and his team of volunteers see proof of this every day.
Currently, Lifeline Outreach OBX's food pantry is an inviting corner of the building that has a line of refrigerators and freezers, tall shelves of canned goods and toiletries, and racks of baked goods and produce. Walking in, the small but well-stocked room looks more like a small-town grocery store than the home base of an outreach center, and Weigel says that, unfortunately, the popularity of food pantry continues to grow.
The food pantry is basically wide open to anyone in need. There are no vouchers or sign-up required – islanders who are hungry can simply come by during its hours of operation, and pick up the staples to survive. Although it's utilized throughout the year, the food pantry is busiest during the winter months, when many businesses close for the season and steady employment is limited on the island.
"In December, we fed 182 people, and so far in February, we've already had 150 individuals come by," says Weigel, "so there is definitely a growing need."
Though the food pantry receives donations from all across the Outer Banks, their primary suppliers are the Nags Head and Kill Devil Hills Food Lions and the Fresh Market, which stock their shelves with donations weekly, and Weigel attests the food pantry could not run without their partnership with Food Bank of the Albemarle and Feeding America.
"We [also] have a core team of about 12 volunteers, but we also have people who come by every season, sometimes during their vacation, to help every year," says Weigel.
Through this regular rotation, Weigel has seen first-hand the effects that hunger can have on a local population.
"One in every five households [nationwide] is dealing with food insecurity," he says. "That's a large percentage of our island population, and when you factor in seasonal unemployment situations, and weather-related situations like Dorian, that number gets bigger."
The adjacent thrift store also does its part, and although its role is technically to help produce income, (since all the goods at the food pantry are inherently free), Weigel says this is rarely the case. "We give a lot of things away – after Dorian, we gave 25% of our [thrift store] stock to the local free markets on the island."
Organizing and maintaining the thrift store, food pantry, and Tri-village disaster response is a heavy workload to be sure, even without the added goal of forming a women's crisis center on Hatteras Island.
But the center's services do not end there. They also partner with other organizations to host a free community dinner on Sundays at the Rodanthe-Waves-Salvo Community Center, and even provide hundreds of healthy snacks and breakfast items for teachers at the Cape Hatteras Schools.
"We're lucky, in that we've developed a lot of good partnerships, which allows us to do all of these things and hopefully more," says Weigel.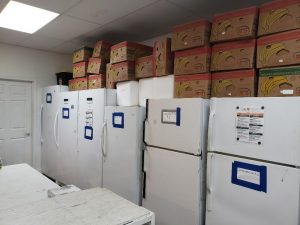 And despite being in the midst of one of the most difficult times of the year, (when the food pantry is needed more than ever), Weigel and his crew continue to aim higher for the months ahead.
Purchasing the building where the center is located doesn't only help in launching a women's crisis center on Hatteras Island – it would also allow the team to expand the facilities and create more room and opportunities to offer assistance.
"Right now, since we are renting, we are limited at what we can do at the property," says Weigel. "But at that point, after we've purchased the building, we can modify the location as well to make [all forms of response] easier and more effective."
Due to these far-reaching range of services, and big ambitions for the year ahead, there is an equally diverse range of ways that community members and visitors can volunteer.
Fundraisers, grant writers, and folks who are familiar with how to generate donations are a big need, especially considering the center's ambition of eventually purchasing the building.
But on a daily basis, the center also needs drivers, on-site volunteers at the thrift store and food pantry, and even IT and social media experts who can help spread the word.
"We welcome anyone and everyone," says Weigel. "This is an especially difficult time of year for us financially, so we welcome anyone who can help."
Folks who are interested in helping or learning more about the Lifeline Outreach OBX Center, (which is a 100% non-profit, non-denominational organization), can check out their Facebook page at https://www.facebook.com/LifelineOutreachOBX/, or can stop by during the food pantry's hours of operations, which are Wednesdays from 10 a.m. to 12 p.m., and Saturdays from 1 to 3 p.m. (Be sure and pet Charlie the cat, who technically came with the new location and is now a resident volunteer, when you pop by.)
But regardless of whether you come to Salvo's Lifeline Outreach OBX center to lend a hand, or because you need a hand to get through the winter, the primary point is to just come.
"We are a no-questions-asked food pantry, so you can just come and say 'I'm hungry, or know someone who is,'" says Weigel. "Our motto is 'changing hunger, changing hearts,' and it has been amazing to watch our volunteer team and our services grow… I hope we can keep growing."
How You Can Help
Lifeline Outreach OBX is always welcoming volunteers and partnerships of all varieties, including organizations, local businesses, and individuals who want to make a one-time donation, regular donations, or who just want to assist with day-to-day work and other initiatives.
For more information on how you can lend a hand, call (252) 489-0306, email lifelineobx@gmail.com, or visit their Facebook page at https://www.facebook.com/pg/LifelineOutreachOBX/.