New Buxton Museum unveils the Hatteras Island connection in a centuries-old story
A new museum is opening in Buxton that shines a spotlight on an almost forgotten and diluted chapter of American history.
Officially opening in a matter of weeks, the "Lost Colony Museum and Gift Shop" unveils Hatteras Island's role in the familiar story of the early English colonists, through hundreds of artifacts that were recovered close to home.
Scott Dawson, Hatteras Island native and author of "The Lost Colony and Hatteras Island," has spent the better part of two decades excavating relics in Buxton and other island sites that show a direct connection between America's first English visitors, and their generous and native hosts, the Croatoans.
"We started doing archaeological digs back in 2009," said Dawson. "The focus in the beginning was to salvage these items, as people were building houses on these [sites] left and right. And then Mother Nature was taking a toll, so it was a candle burning at both ends."
Dawson always knew where these sites were located, thanks to family information passed down through nine generations, but he wanted the excavations to be conducted with a professional and scientific eye.
Early on in the project, Dawson connected with Professor Mark Horton, Senior Teaching Fellow Professor of the Department of Anthropology and Archaeology at England's University of Bristol.
"I wrote a book a really long time ago that was self-published that they knew about," said Dawson. "And then it just blew up into this multinational project."
Since 2009, Dawson has worked with dozens of archaeological experts from around the globe to conduct roughly 1-2 excavations per year. Having expert hands in the process is imperative, as unlike finding a centuries-old artifact in the backyard, there's a detailed but necessary process to properly identify the exact time period and role of each small item that is pulled out of the Buxton grounds.
"When you're digging, you'll find cigarette butts and Pepsi cola cans [on the top layer], and that's us right now," said Dawson. "Then you'll go deeper, and you'll find, say, a Sony Walkman, and then you'll see Civil War bullets… Then the further you go, all of a sudden, there is all this Elizabethan-era material right next to Croatoan items."
The team of archeologists and historians who were involved in the past 14 years of archeological digs helped give authentic dates to the excavated articles, but over the years, additional tools have been used to provide more information on found items.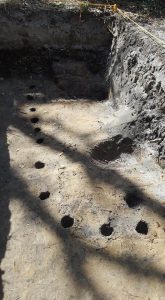 At one point, particle physicist and pioneer in XRF technology Bruce Kaiser joined the team, using an X-ray fluorescence (XRF) scanner to determine the exact properties of every piece. "That helped us tremendously, because everything in the world has a unique signature, and you can go through databases and see exactly where [materials] came from," said Dawson. "As an example, a piece of copper ore might have originated from a mine in Ireland, or a piece of expensive glass may have been originally manufactured in Italy."
"Everything is unique to an area," added Dawson. "So having that [technology] helps fill in the story."
The history of England's first visitors to America in the late 1500s is lengthy and filled with multiple versions and interpretations.
But the main theme that Dawson and his interworking team of experts uncovered – which is the focus of the museum – is that Hatteras Island's own Croatoans, (a small branch of the Algonquian Native Americans), were instrumental in the colonization of America from the very beginning.
At the 16th-century layers of these excavation digs, countless Croatoan artifacts are found alongside English items that have been repurposed for island life – such as an expensive glass plate that has been cut into a jagged arrowhead, or barrel hoops that have been transformed into tools.
In addition to the on-site evidence, Dawson also unearthed 900 pages of documents referring to the Croatoan, which includes maps of the population's home on Hatteras Island, as well as an Algonquin alphabet created with English scientist and translator Thomas Harriot (1560-1621.)
These hundreds of artifacts have found a permanent home at the Buxton museum to tell a story that's not as sellable or attention-grabbing as hostile Indians wiping a Roanoke Island colony off the map, but which is more accurate.
"What I'm trying to do is tell the truth," said Dawson. "These people showed nothing but love and charity, and I feel like the tribe down here is in danger of being forgotten. They're already on 'American Horror Story,' and you have the History Channel and other [media outlets] running with this mystery or saying that the word 'Croatoan' is an omen of death, and that is so disrespectful."
Dawson points to the original and fictional Lost Colony play, which was written in 1937, as an unintended source of misinformation that still permeates the history of the early days of English colonization.
In many people's current understanding of this Tudor-era nugget of history, the Lost Colony was the English's first visit to the Outer Banks. Manteo and Wanchese were combatting chiefs from Roanoke Island who intermingled with the Lost Colonists, and when the colonists disappeared without a trace, no future English explorers could figure out the meaning of the word "CROATOAN," which was carved into a palisade, and was one of the few clues to their fate. Hatteras Island is generally not mentioned in the story at all.
Per Dawson, however, there were multiple English journeys to the Outer Banks prior to the Lost Colony, with the first English visitors landing in modern-day Buxton in 1584. Manteo was actually from Hatteras Island, (and Wanchese was from Manns Harbor), and neither one of them were chiefs, or had been to Roanoke Island before. Rather than warring with the colonists, Manteo served as an ambassador of sorts, making several trips across the pond to build relationships with the new English arrivals. Simply put, there had been a relationship with the native Hatteras Islanders years before the Lost Colony had disappeared.
"When they wrote 'CROATOAN,' it's not random," said Dawson. "Ignoring the relationship that the Croatoan and the English had for years, and Manteo's role, keeps all these myths going. If people knew the whole story, it wouldn't be much of a mystery."
"Between what we found, and what common sense dictates, the [Lost Colonists] left Roanoke Island and came here," said Dawson. "You can argue after that whatever you want – they split up, they tried to sail home, they were eaten by mosquitos, etc. But they're definitely more the 'Abandoned Colony of Croatoan' than the 'Lost Colony of Roanoke.'"
This is why Dawson decided to take his decades of research and hundreds of artifacts, and open a museum close to home.
"I decided to open the museum to just create more awareness about the Croatoan," said Dawson. "We know their religion. We know their diet. We know their customs, and how their government worked, and their creation story."
"And as a byproduct of keeping the Colony lost, you have to keep the Croatoan lost, too, so their entire history gets erased. And that's not right."
The museum will feature display cases with all of the artifacts discovered during the intricate excavations, as well as interactive exhibits, a gift shop, and a full accounting of Hatteras Island's earliest residents.
There's still a bit of work remaining before the museum can officially open, hopefully by the end of April. Display cases are needed to house the artifacts, and  there are a few finishing touches required for the small rooms that will serve as the interactive components of the site. (This includes adding touch screens with videos from the various experts who worked on the Buxton excavations.)
But in the meantime, as Dawson works to perfect bits and pieces of the museum space, the doors remain open and curious visitors trickle in to see what's going on with the in-process renovation.
When they do, Dawson will stop what he's doing and take some time to explain the Croatoan story, spreading the word of the Hatteras Island connection one person at a time.
"The Croatoan should not be ignored in our history," said Dawson. "They're being erased. And I hope this museum will help share their story with as many people as possible."
For more information, and how you can help: