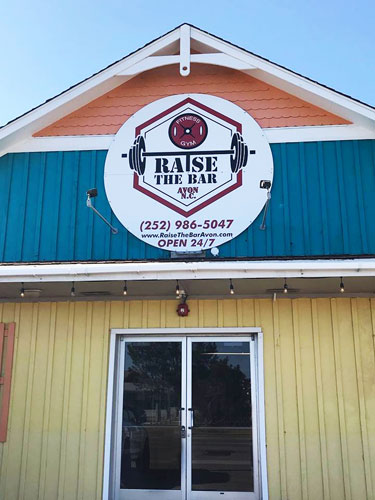 The new Raise the Bar fitness center and gym in Avon is open for business, although an official grand opening as well as 24/7 hours of operation is on the horizon, per owner Seth Foutz.
Foutz, a 20+ year chef and island resident, was one of the local members affected by the closure of the Spa Koru gym at the end of 2018, but after a little mentoring from Spa Koru owner Joe Thompson, he quickly set a plan in motion to open a new gym less than a half mile away from the former one.
Raise the Bar is located at the Kinnakeet Corner complex at the edge of Avon Village, and the 2,700 square foot space features high-impact floors, new walls, and a variety of equipment throughout the spacious interior.
Currently, the gym is open from 8 a.m. until 8 p.m., but Foutz will soon be installing a 24-hour keyless access system that will allow members to work out on their own schedule.
"Working in the restaurant industry, I never went to gym in the summer because the hours [of operation] didn't work with my schedule," said Foutz in an earlier interview. "And in our community, there are a lot of people like me where normal operating hours just don't work."
But opening the doors isn't the end-all of his plans. Foutz is looking into offering classes in the future, that don't duplicate the Hatha Yoga classes and other offerings that are already available through established island fitness providers. He's also connecting with community members to see how the gym can give back, and serve as a space for a myriad of local activities.
Daily, weekly, monthly, and annual passes are currently available to prospective members, and Foutz will be offering incentive programs and packages as well in the near future to keep folks motivated.
An official grand opening – as well as the extended hours – will be announced within the next several weeks, and in the meantime, the community is welcome to swing by the Avon gym, and see the new facilities in person.
"It's still a work in progress, but I wanted to open the gym up for everyone on the island," said Foutz. "We'll have more [improvements] coming soon, but for now, at least we have a space where people can come and work out – That's the main thing."