New Running Events Group lands on Hatteras Island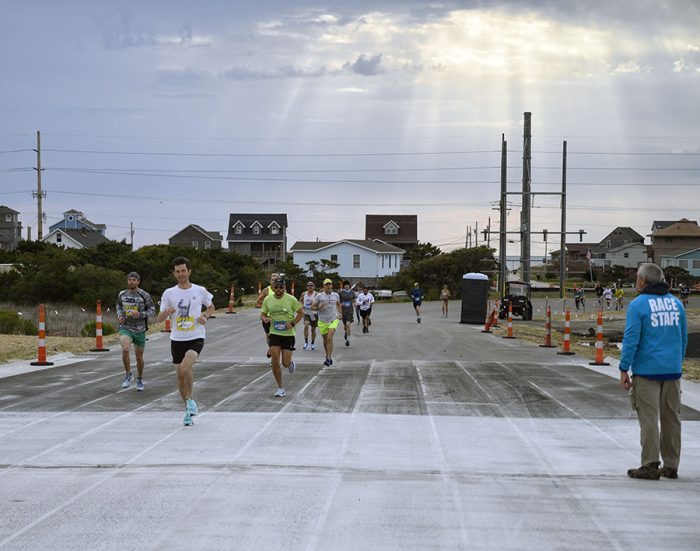 It all started with the Rodanthe Bridge 5 mile/ 5K Run in April 2022. The team of Jenny Ash, formerly the Executive Director of the OBX Marathon (OBSE), and Tom Amatucci, past RWS Civic Association President hosted the Bridge Run and welcomed over 600 registered participants. Since then, the duo has contemplated developing a new running/athletic series. This year they formed the Barrier Island Group, also known as BIG.
Their inaugural event will take place December 9 at the Elizabethan Gardens/Fort Raleigh. It will be a 5K run or walk with an "Elf Dash" for ages 10 and under.
The 5K will start and end at the Gardens and includes entry to the Winter Lights Festival at the Gardens, a must-see annual event. The post-race party will include hot chocolate, cookies, roasted marshmallows, and a visit with Santa. In addition to entry to Winter Lights, all 5K registrants will receive a festive Holiday Scarf, Finisher Medal, and an eco-friendly reusable water cup.
Register now | Barrier Island Group
Their second event will be at the SHUCK Hatteras Oyster Festival in Rodanthe on December 15-16. This will be a "Sprint for Spat -100 Meters to Glory" – a 328-foot adult Fun Run.
Participants will run, walk, dash, or dance from the start line to the turnaround point, down an Oyster shooter (vodka, oyster & hot sauce), then return to the finish line.
Participants can dance down the aisle alone, in three-legged style, wheelbarrow, or just skip on down in pairs, trios, or up to four at a time. The crowd will cheer you on and the BEST shuffler of course will receive a BIG Award! All registered participants will receive a cool T-shirt and the 000.10K decal as proof of athletic achievement.
Also on the agenda (details to follow) will be the April Fools 5K and 4 on the Fourth, a 4-mile run/walk in Avon on the 4th of July to begin the day's celebrations. New events will be announced as details are completed.
About Barrier Island Group:
BIG will be supporting various charities both on the northern beaches and on Hatteras Island.
Our goal is to conduct 3 – 4 athletic and social events annually for both locals and visitors (scheduled both "in" and "off" season) to advertise and promote the OBX landmark sites while encouraging physical activity and healthy lifestyles for people of all ages and abilities.
Events will be held at various landmark sites and will provide support for various non-profit organizations across the Outer Banks.
We hope to generate a spirit of community involvement and volunteerism throughout the villages and northern beaches while increasing interest in health and wellness.
For more information and to register for events, visit www.barrierislandgroup.com