The night skies of March were literally filled with great opportunities to view some of my favorite Deep Space Objects (DSO) – galaxies. With very few exceptions, most galaxies are rather far away from us. The Andromeda Galaxy (M31) is the Milky Way's nearest galactic neighbor. It's only 2.5 million light years away from us. But the DSOs I chose to focus on during March are a bit more distant.
This is M51, the Whirlpool Galaxy.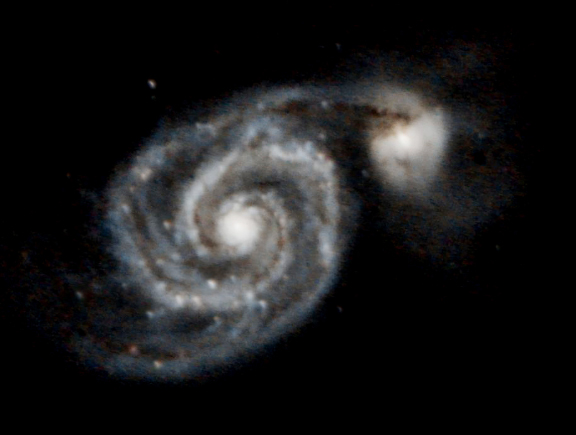 It's a mere 28 million light years away from us. M51 has a visual magnitude of +7.9. It's apparent location is very close to the star Alkaid, which is the first star in the handle of the Big Dipper. M51 was discovered by Charles Messier in 1773. Its companion galaxy, (the one trailing to the right), is NGC5195. NGC5195 was discovered in 1781 by Pierre Mechain. The spiral pattern of M51 was not seen until 1845, when Lord Rosse of Ireland viewed it through his 6 foot reflector.
Lord Rosse is famous for this sketch of M51, which earned this DSO the title "Lord Rosse's Question Mark."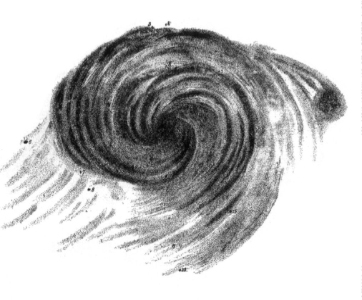 This is the first known sketch of a spiral nebula. Astronomers of that time period thought M51 might be a solar system beginning to form. This theory stood until Edwin Hubble proved that M51 is a galaxy.
The Sunflower Galaxy, M63, is located very near M51.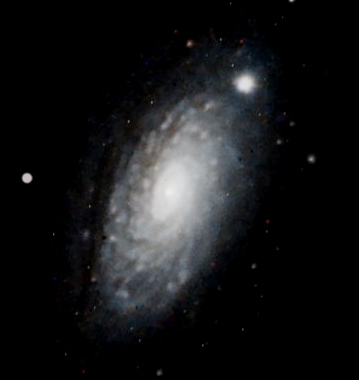 It was first listed in the Messier Catalog on June 14, 1779. That was also the first day Messier's friend, Pierre Mechain, discovered his first galaxy, which happened to be M63. In 1850, Lord Rosse listed it as the 14th spiral nebulae discovered by man!
In a totally different part of the evening skies, we find this edge-on spiral galaxy, NGC 4631. Its nickname is the Whale Galaxy. It was discovered in 1787 by William Herschel.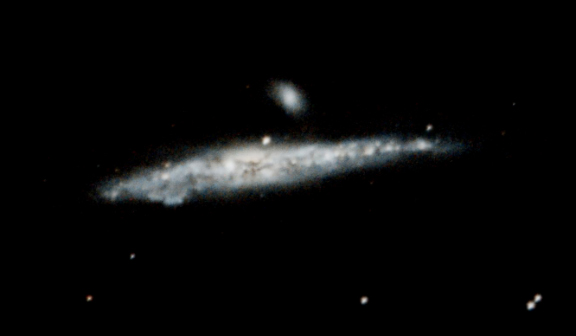 NGC 4631 has a visual magnitude of +8.9. It's 30 million light years away. The little sphere about the whale is a dwarf galaxy, NGC 4627.
What to look for in April 2019.
Jupiter rises in the East at 1:05 a.m. on April 1. Saturn follows at 2:52. Pluto is very close behind Saturn, rising at 3:07 a.m.
Venus, Neptune, and Mercury are all in the sky just before sunrise. Venus rises at 5:25 a.m., Mercury at 5:49, and Neptune at 5:52 a.m. Both Venus and Mercury are visible with the unaided eye.
Uranus is the only planet in the evening sky on April 1. It sets about an hour and a half after Sunset, so you might be able to see it with a telescope.
The Lyrid meteor shower will peak on the night of April 22 – 23. You can expect to see between 5 and 20 meteors per hour. The Lyrid's appear to originate from the very bright star, Vega. Vega rises in the north-east at 9:07 p.m. on April 22. Expect the action to be best between 12:00 and 5:00 a.m.
The Lyrid's are the oldest recorded meteor shower on record. People have been watching it for 2,600 years! It is caused by debris from comet Thatcher. Thatcher takes 415 years to orbit the Earth and is expected to be visible in 2276.
Moon Phases:
New Moon is April 5
1st Quarter is April 12
Full Moon is April 19
Last Quarter is April 26