Wikipedia defines a globular cluster as "a spherical collection of stars that orbit a galactic core, as a satellite."  Globular clusters are fairly common, and there about 150 globular clusters in the Milky Way.
This is Messier 3, a +6.19 magnitude globular cluster that is 33 thousand light years away.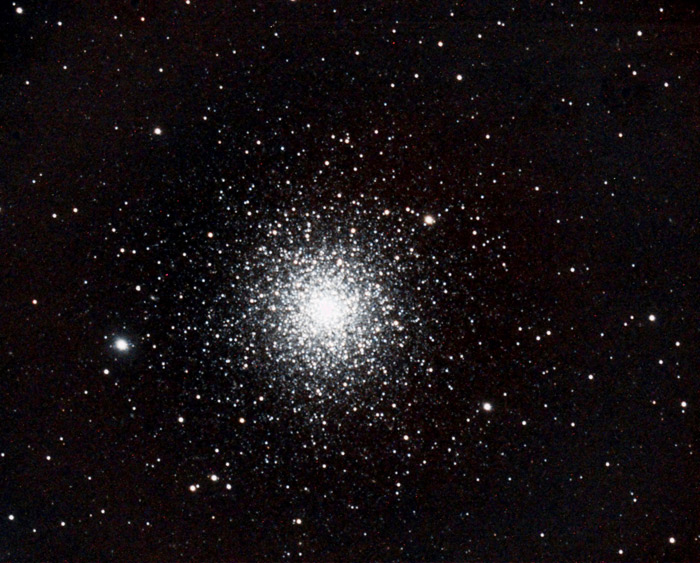 M3 was discovered by Charles Messier in 1764. He described it as a nebula without stars! Twenty years later, William Herschel was the first astronomer to realize that the "nebula" wasn't without stars, but rather composed of stars.
M3 contains about 500,000 stars. Although it is too faint to see with the naked eye, M3 is a great target for a pair of binoculars. It is located above and slightly to the north of Arcturus.
The eastern skies will feature a lot of opportunities to view globular clusters in May. M92, M13 (the Hercules Cluster), and M5 will almost form a line across just above the horizon at sunset. M92 is a little faint to spot with the naked eye, but both M13 and M5 are bright enough to see on clear dark nights.
Dark Sky Park
If you read the April 5 "Editor's Blog: Is Our National Seashore Getting Closer to Becoming an International Dark Sky Park (IDSP)" you know Hatteras Island has a night sky that's getting hard to find in the USA! We should be very proud of our island possibly receiving this honor. The IDSP will help promote tourism year round! People are willing to travel great distances to see the Milky Way or have a chance to see a meteor shower. In most of the major cities on the East Coast, you can't even see the constellations any more.
But, at the same time, you have to ask yourself what is the connection between the pristine nature of the National Park's skies and less than pristine night skies we sometimes see in our villages? The answer is simple: There is more light pollution in the villages because there are more outside lights. And the light pollution that originates in our villages can ruin the dark skies in the surrounding National Park! If you want a simple example of this, come up to Waves on a dark clear night and look north towards Nags Head. You'll be able to locate the city by the sky glow above it. That distant glow actually reduces what we can see in our night skies.  Most of that glow is coming from street lights and outdoor house lights. We used to have similar sky glow problems on Hatteras Island until our CHEC updated its street lights. The new LED fixtures direct the majority of light towards the ground and help retain the quality of the night skies!
What to look for in May 2019
Mars will be visible in the Western evening skies for throughout May.
Jupiter rises in the East at 11:01 PM on May 1st. Saturn follows at 12:57 AM. Pluto is very close behind Saturn, rising at 1:09 AM.
Venus, Uranus, and Mercury are all in the sky just before sunrise. Venus rises at 5:03 AM, Mercury at 5:26, and Uranus at 5:51. Both Venus and Mercury are visible with the unaided eye. The Sun rises at 6:10 AM so you probably won't have a chance to view Uranus
The Eta Aquarids meteor shower will peak on the night of May 7. You can expect to see up to 60 meteors per hour. As the name implies this shower originates in the constellation, Aquarius. The best viewing will be at 4:00 AM. The shooting stars will appear to originate close to the Eastern Horizon.
Moon Phases:
New Moon is May 4
1st Quarter is May 11
Full Moon is May 18
Last Quarter is May 26