Night Sky: Two meteor showers, and more highlights for October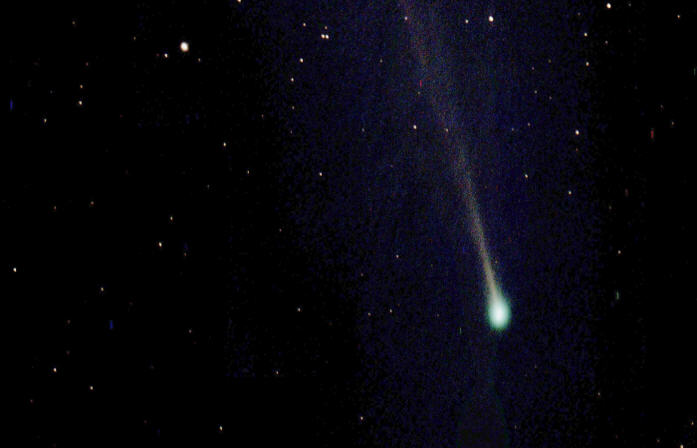 This is comet C/2023 P1 (Nishimura). It was discovered on August 12, by Japanese astronomer Hideo Nishimura. He discovered it as an unexpected deep space object in a series of images he had taken.
C/2023 P1 (Nishimura) is believed to orbit the Sun every 430 years and had a visual magnitude of +5.9 when I took this shot.
Considering the last time this comet could be seen was before Galileo picked up a telescope, (about 1583), Nishimura was very lucky in finding it. The comet C/2023 P1 (Nishimura) is no longer visible from Hatteras Island, but it might be in 2453!
What you can look for in October's Night Skies
Venus and Mercury begin October mornings in the eastern sky. Venus will rise at about 3:30 a.m. and be about 30 degrees above the horizon at 6:00 a.m. It's the brightest object in the pre-dawn skies. Mercury will rise at 5:48 a.m. and probably only be visible about 6:15 a.m. when the glow of the rising Sun will obscure its light.
If you shift your view 180 degrees away to the western horizon you will be able to see Jupiter and the waning Moon.
Saturn and Neptune are visible in the eastern skies right after sundown. Jupiter will rise at about 8:22 p.m., right next to the Moon. Uranus will follow it about 20 minutes later. Remember, Saturn and Jupiter can be viewed with the naked eye, (if the skies are clear), but you'll need a good pair of binoculars or a telescope to see Uranus and Neptune.
The Draconid meteor shower will peak at 8:06 p.m. on October 8. The Draconids appear in the NW about 49 degrees above the horizon. You can only expect to see about eight shooting stars per hour from the Draconids, but for a lot of people, getting up to see a meteor shower after dinner makes a lot more sense than getting up at 4 p.m.
The Orionids meteor shower will peak on the evening of October 22. You should be able to see some shooting star activity as early at 11:00 p.m., just above the SE horizon. The shower will improve all night as it rises, (along with the Orion constellation), higher in the sky. The best viewing will probably be between 4 and 5:30 a.m.
You can expect about 20 shooting stars per hour from the Orionids.
Moon Phases:
Last Quarter is October 6  
New Moon is October 14
1st Quarter is October 21
Full Moon is October 28