Ocracoke's Island Inn & Commons project will be highlighted at October 25 event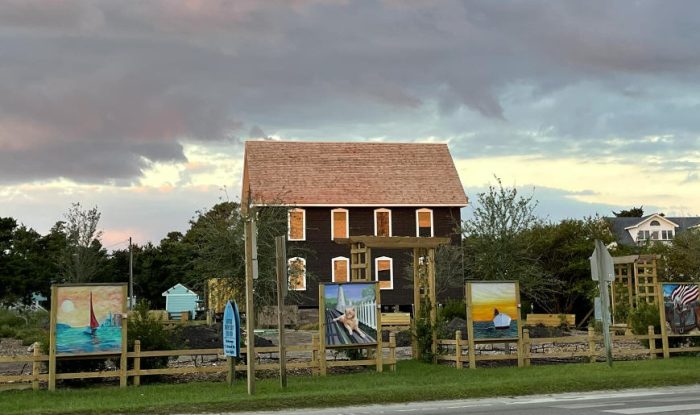 On Wednesday, October 25, the Ocracoke Preservation Society (OPS) will be hosting an event at the Island Inn & Commons to discuss the ongoing project, and to thank donors for their generous contributions.
The Evening at the Commons will start at 5:00 p.m., in front of the historic structure and in the new park and garden area that borders the site.
The two-story Island Inn was first constructed in 1901 as a lodge for the Independent Order of Odd Fellows. The site was used as a popular hotel, restaurant, and social hub until the 2000s, but it ran into financial issues and eventually fell into foreclosure, as well as disrepair.
In the mid-2010s, the OPS was presented with a plan by a group of concerned Ocracoke citizens to purchase and preserve the building and the surrounding area. Since then, there has been a multi-pronged effort to transform the site, which includes the renovation of the building itself, a new commons and garden area, and a new public restroom which is scheduled to be completed by the end of 2023.
During the October 25 event, Ocracoke Alive will be auctioning off the 12 artist murals that border the exterior of the Commons to benefit the restoration efforts at the Island Inn.
Online pre-bidding will begin via email (info@ocracokealive.org) from October 17 until 9 p.m. on October 24, (the day before the event). The highest bid received online will be the starting bid at the live silent auction on October 25.
For more information about the mural auction, go to the Ocracoke Alive website at https://www.ocracokealive.org/mural-project-2023.html/