The Attempted Rescues of the Famous Outer Banks "Ghost Ship," the Carroll A. Deering
One of maritime history's most enduring mysteries involves the iconic names of Cape Hatteras, Diamond Shoals, Graveyard of the Atlantic, and the term "Ghost." There has been much discussion about the possible explanations; there has been little about the actual Coast Guard rescue attempts.
Much has been written and told about the famed ghost ship of Cape Hatteras, the Carroll A. Deering – half a dozen books, a few documentaries and hundreds of articles in magazines and newspapers. They all follow the same script: the surprising discovery which is followed by the inexplicable scene of what they found. Then, the theories follow. This is not a repeat of that. Rather, it is a closer examination of the actual attempts of rescue by the U.S. Coast Guard between January 31 and February 4 of 1921.
The Setting: Decade of 1910 – 1920
The world had endured the most catastrophic war in all of its history. It was mostly fought in Europe from 1914 to 1918 but there were reverberations throughout the globe. Then came the rise of socialism, fascism and communism with leading names like Lenin, Hitler and Mussolini.
In America, the economic prosperity resulting from WWI that lead to extravagance and a joie de vivre that resulted in "The Roaring Twenties." By the time the Deering wrecked on Diamond Shoals, Babe Ruth had just signed with the New York Yankees, Pablo Picasso had become a renowned artist, the 18th Amendment, known as Prohibition, had passed two years earlier and the 19th Amendment passed in the following year giving women the right to vote.
On Hatteras Island, not much had changed from the previous century, much less from the previous decade.
Censuses indicate that it was the very rare late 19th or early 20th-century Outer Banker who was not born in North Carolina of North Carolina-born parents. Obituaries and other sources suggest that virtually all of these residents were not only North Carolina natives, but were born on the Banks. The small number of surnames shared by a substantial number of Dare County Outer Bankers reflects the insular nature of their lives. The surnames were so few, that it was not uncommon for women and men with the same last name, (but only distantly related), to marry.
Indeed, from the beginnings of European settlement well into the 20th century, the vast majority of residents on the Outer Banks made their livings as fishermen, seamen, sailors, mariners, oystermen, ferrymen, and in other pursuits that took them off of dry land and out upon the water…Even with the difficulty of teasing out the Hatterasmen from the mainlanders, however, it is crystal clear how heads of Hatteras households made their livings in 1860: they went out on the waters.
There were a few other jobs, but these were rare and far down the list: boat pilots, wreckers and the scarce and coveted positions of village postmaster, village Life-Saving station or the one Keeper and two assistants at the Cape Hatteras Light Station.
There were no real class distinctions, since everyone was virtually the same class. Gender and adult versus child distinctions, however, were extremely clear: only men had the positions listed above. Women did not work outside the home with salaried jobs. Their work was cooking, cleaning, raising the children, (which often were many per household), and general housework. It did not end there. They also tended the gardens and the livestock, and were a considerable assist to their husband's fishing endeavors by mending nets and other related chores. They put a literal truth to the old expression, "A man works from sun to sun, but a woman's work is never done."
Children were clearly subservient to adults. They were expected to mostly help their mothers with women's work, and occasionally to help their fathers, so they could learn the trade they would surely inherit.
This, then, was the picture when the Carroll A. Deering arrived on Cape Hatteras.
Day One: Monday, January 31, 1921
Monday, January 31, 1921: On regular beach patrol from the U.S. Coast Guard Station 183, Station Cape Hatteras, at 0530 hours, surfman C. P. Brady Andrew Gray spotted the schooner Carroll A. Deering immobile on the Diamond Shoals. According to an original report provided by the Outer Banks History Center, "The schooner was driven high up on the shoals in a boiling bed of breakers."
Keeper Baxter B. Miller of Cape Hatteras station went up to the watch tower of his elegantly designed 1882 station (architect J. Lake Parkinson) to look for himself. What they were looking at made no sense. Through his telescope, Miller "could see whenever the curtain opened for second or two that miles away over the waters there lay a great schooner before them – now present, now disappearing, like a phantom, a specter, a will-o'-the-wisp and he thought, Smoky over the shoals."  ("Smokey:" Local Outer Banks term for foggy or misty conditions, lessening visibility.)
Following standard operating procedures, keeper Miller telephoned nearby Coast Guard stations Big Kinnakeet (No. 182), Creeds Hill (No. 184) and Hatteras Inlet (No. 186) to standby for assistance.
Only fifteen minutes later, Miller telephoned each station a second time with this ominous message: "That I was quite sure the schooner was aground on the S.W. point outer diamond shoals and that I was proceeding to scene of wreck. I immediately hauled power boat to south hook…"
The distance from the Cape Hatteras Life-Saving Station to Cape Point is approximately three miles. That is a strenuous walk in the sand on a pleasant day. For Station No. 183 surfmen, that stormy Monday morning was a most unpleasant way to start the week.
The sun would have broken only minutes before, but now it was obscured by clouds and everything was gray and dim. They were being sandblasted by the strong winter winds that had driven the schooner aground. The sea itself resembled a boiling cauldron.
The geographical area of "Cape Point" is the extreme elbow of Hatteras Island. Although changing shape daily, it has always mostly resembled the shape of a hook. The Cape Hatteras surfboat crew had finally reached the south side of the hook, arriving battered, wet, cold and anxious. The sea was running very high. They relocated to the north side but found it running even higher there. So, they returned to the south side and prepared to launch.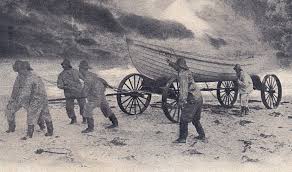 As with the Beach Apparatus Drill, the surfboat drill – although usually practiced in good weather conditions – was nevertheless strenuous. Miller continues, "By this time the Boatswain and crews from stations No. 182 and 184 arrived to assist me as the sea was too rough to launch from their stations." In these storm conditions what these surfmen now faced made the launch at 10:00 a.m. exceedingly difficult. Miller continues, "After being washed back several times ____ using boat power and oars I finally succeeding in crossing the bar and proceeded seaward, arrived at scene of wreck …"
This difficult and dangerous job is what these surfmen do, and it was what they expected. Bland Simpson elegantly expressed it as, "Of all the millions of people on the face of the earth, the only ones who might save that schooner's crew were these few surfmen, with their horse, their ropes and lines, and their very small craft." Actually, the surfboat was a large and heavy object on land, but looked miniscule compared to the gigantic waves on this huge and angry ocean.
Methodically, keeper Miller selected seven of his surfmen and nominated C.R. Hooper of Big Kinnakeet and J.C. Gaskill of Creeds Hills to be boatswains. At 10:00 that morning, the surfboat launch attempts begin. "Attempts" is plural here because it almost always takes numerous tries. It is not uncommon to take hours just to get past the initial violent breakers, which may be another reason why they are called breakers.
Ninety minutes later, the surfboat with lifesavers neared the vicinity of the schooner. But this angry, violent sea was ready to ground yet another vessel – their surfboat. "Arrived at the scene of wreck at 11:30 a.m. and after several attempts to get even near enough to get the full name and seeing the schooner's 2 boats were gone and no signs of life on board."
What they could see, however, was confusing. It was certainly a very large vessel. Even in this dreadful environment, she seemed elegant and probably fairly new. The surfmen were able to verify a few facts: she had been driven high up on the shoals, which would have taken a massive force to accomplish; all sails were set, and the ship's two boats were missing and the davits falls were hanging. They could see no movements onboard. All of this was eerie, scary and perplexing. The surfmen must have been thinking, "What in the world?"
Was there anyone onboard to save? Were they alive or injured? Were they conscious? How many were there? Is it safe to board? Why had the schooner's crew not transmitted a wireless message of distress or a Mayday call? Surely this stately ship was so equipped. All of these uncertainties were compounded by the danger of the seas surrounding them. After several valiant attempts to get closer risking their own demise, they had no choice but to turn back to their stations. The book had said they had to go out – which they immediately and heroically did – but the book said nothing about coming back.  Thankfully, they did come back, but they knew for certain that it was not over. The sea had not won the ship's crews lives – at least not yet.
Knowing they would be going out again, they left the surfboat on the southern hook of Cape Point and then trekked back to Station 183 Cape Hatteras. Upon his return, shortly after 1:00 p.m. and following procedure, keeper Miller notified Coast Guard Seventh District superintendent and the division commander of these event. Seventh District Headquarters then sent the following telegram to Coast Guard Headquarters in Washington, D.C.
UNKNOWN FIVE MASTED SCHOONER STRANDED DIAMOND SHOALS SAILS SET BOATS GONE NO SIGNS OF LIFE SEA ROUGH STATIONS 183 184 186 UNABLE TO BOARD SCHOONER 1630
The Ship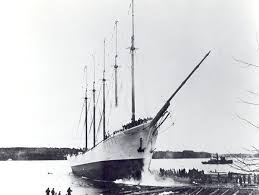 The Carroll A. Deering was a 1,879-ton, five-masted schooner. It was built by the G. G. Deering Company in shipyards in Bath, Maine, and completed in 1919. Owner Gardiner Deering named the ship for his youngest son, Carroll Atwood Deering, bookkeeper for the Company.
There were several unusual things about this ship from the start. It was the last of 100 ships constructed by the Deering Company. It was also one of the last wooden sailing ships to be built anywhere in the world – the age of steel and steam was dawning and rapidly expanding. That clearly was the future.
The Deering was unusual for its time: "She was 255 feet long and 45 feet wide with 5 masts and 3 decks. She was luxurious for a cargo ship, outfitted in oak, mahogany, and ash wood, with a functioning lavatory, steam heat, and electricity."
Launched into the Kennebec River of Bath, Maine, on April 4, 1919, she was to be captained by Gardiner Deering's friend and neighbor William Merritt. Known as "Hungry Bill" to his nautical acquaintances, Merritt was also a hero of the Great War and he took the Deering out almost immediately.  Her maiden voyage was from Newport News, Virginia to Rio de Janeiro with a full load of coal. The return trip was bound for New York with a cargo of Argentine corn. She made two more voyages in 1920, both from U.S. east coast ports to the Caribbean. In only three trips, the Deering had already covered half of her construction costs. Such optimism is soon to fade.
Day Two: Tuesday, February 1, 1921
While docked in Wilmington, NC, Lieutenant F.C. Wells wrote in the Record of Miscellaneous Events of the Day for Coast Guard Cutter Seminole, "1200  received following telegram: 10:31. Proceed to assist five masted schooner ashor near Diamond Shoals. will keep you advised. 1030 (signed) Norfolk Division. Made preparations to sail as soon as condenser which is being tested for leaks could be closed up." (Seminole log)
By 1:55 p.m. the Seminole was underway down the Cape Fear River. By 3:58 p.m. she was off Fort Caswell, near the mouth of the Cape Fear River, being opposite Bald Head (Smith's Island) and into the Atlantic Ocean. Proceeding at full speed for most of her voyage, the Seminole steamed northeast towards Cape Hatteras. Were she able to follow a straight line from Fort Caswell to Cape Hatteras, it would be approximately 175 miles. However, that is never possible. The Seminole passed the Frying Pan Shoals Light Vessel at 6:45 p.m. and later the Cape Lookout Shoals Light Vessel where she practiced a night signal drill.
It was smooth sailing for the cutter Seminole until midnight, when she recorded "choppy seas" in her log. Between 4:00 and 8:00 a.m. she encountered strong NNE winds. As winds, seas and shoaling areas increased, the Seminole made frequent course corrections. Finally, she reached her temporary destination of Hatteras Cove. She now lay between USCG Stations 183 (Cape Hatteras) and 184 (Creeds Hills). The Seminole communicated with Station 183 by means of International Signal Code flags. An agreement was reached that the station would send its surfboat with nine surfmen to the cutter to spend the night.
This is when the strangeness of the schooner's situation was taken to a higher level.
From the Seminole's log, "2:25, stopped. Sent following signals to station 183
Can you send a boat             – GSI
Reply – yes I can                 – HUG
What has become of wreck – GCQ
Reply – towed in by…       – XYU
This last entry was evidently in error, as Hatteras Radio Station almost immediately advised that schooner in question was stranded on Diamond Shoals with most of her sails set." It was then the Seminole realized they had passed the wreck but assumed it was an able vessel sailing by since all of her sails were set and it looked to be in good shape.
At 3:15 p.m. the cutter has wired Norfolk HQ that they were still at anchor in Hatteras Cove and "will attempt reaching wreck when sea abates." (Seminole log) The only thing that is documented next is that at 5:35 p.m., keeper Miller led his surfboat crew out to the Seminole where they would spend the night and hopefully awaken to an improved situation. If lives were at stake on the wrecked schooner, time was of the essence.
To complicate the confusion even more, messages were now crossing each other or not being seen until later. Norfolk did not get Seminole's 3:15 p.m. wire until after 8:00 p.m. Not knowing that, Norfolk had wired Seminole at 4:00 p.m. to ask if the cutter Manning might join the rescue efforts. Two more crossed messages were sent at 5:15 p.m. and 7:19 p.m. Finally, at 10:30 that night, Seminole tells Norfolk HQ, "No trace of crew Schooner stranded about center of outer shoal Apparently not badly damaged and all sails set Unable approach closer than one mile in present sea As seas are breaking over her at present but not breaking up."
Day Three: Wednesday, February 2, 1921
Apparently, Punxsutawney Phil saw his shadow on this date, for the hopes of improved weather conditions were dashed. It was worse. The day's attempts would be more discouraging failures.
First, the optimistic Cape Hatteras Coast Guard station crew who had spent the night on the cutter Seminole launched their surfboat in another attempt. Naturally, the goal was not only to reach the mysterious schooner, but also to board her or otherwise affect a rescue. Once again, monstrous waves and violent forces of wind and water won out. The surfboat was forced to surrender a second time. Now realizing the enormity of the situation, keeper Miller knew that bigger help than his surfboat was needed. Thus, he steered ashore and headed back to the station.
Lieutenant Commander C.H. Dench in charge of the Coast Guard cutter Seminole, was frustrated early that day – still at anchor in Hatteras Cove, seas too rough. At 2:45 that afternoon, Lt. Cmdr. Dench started his first attempt to reach the wrecked schooner, still not identified as yet. He only got about 4,000 feet from the wreck where the Seminole was in thirty-nine feet of water – deep for the Diamond Shoals. Still too far away to read the name of the schooner, but Dench wrote that he thought the home port may have read Bath, Maine. He was correct.
He further observed the wreck appeared to be a large vessel of about 3,500 tons and that she was a good-looking ship painted white or light gray. He instantly remarked about all sails being set but could see neither wreckage nor signs of life.
The conditions were now threatening the Seminole, so Dench moved the cutter to a few other locations. Frustrated, and with ship maintenance problems now of his own, Dench departed Cape Hatteras at 4:45 that afternoon bound for home port in Wilmington, N.C.
Coast Guard records for Station Cape Hatteras this day showed that keeper Baxter B. Miller was absent due to illness. Acting Keeper W.L. Barnett records in the Record of the Miscellaneous Events of the Day that from 8:00 a.m. until 4:00 p.m., "Boatswain and crew returned from C.G. Seminole off Hatteras Shoals at 10:30 am. unable to board schooner on account of rough seas" (Cape Hatteras Station 183 log). They are still trying; they are still being rebuffed. Typical of these daily detailed reports, Barnett's remarks record that from noon till 3:00 p.m. that day the crew were "employed in cleaning and stowing surfboat." An unusual – for us – note is included that from 6:00 p.m. to 7:00 p.m., "practiced with occulting light in doors." The entry ends with an almost simply stated postscript that had the same importance as cleaning the surfboat or practicing with the light: "Received telephone message from District Superintendent that B.B. Miller Boatswain (L) was Retired from actual Service January 31th 1921." A miscellaneous event, indeed?
Day Four: Thursday, February 3, 1921
Not much new was happening that day. In his handwritten remarks in the Records of Miscellaneous Events of the Day, acting keeper Barnett notes, in third place after telephone test, and test of power boat engine, that "schooner still in same position on diamond shoals. unable to board her yet on account of rough seas."
Two more ships launched from Norfolk, V.A. that day, headed to Cape Hatteras, to try their luck assisting the still unidentified wreck on Diamond Shoals. Amazingly, the Deering was still in the same position. These ships were the Coast Guard cutter Manning and the Merritt and Chapman Derrick and Wrecking Company's tugboat, the Rescue. At 3:00 the Manning "prepared to get underway."
Day Five: Friday, February 4, 1921
On Friday morning Manning's log read, "At 8:30 a.m. sighted the stranded schooner 'Carroll A. Deering.'"
This was the first time the identity of the wreck was known.
That is why schooner captain Wormell's family in Portland, Maine, and Deering Company in Bath, Maine, had been so distraught for so long.
The Manning report continued to say they were anchored 9 ½ fathoms [57 feet] of water, took soundings between herself and the Deering, then the report states, "1000 boats from Cast [sic] Guard Stations 182 [Big Kinnakeet] and 183 [Cape Hatteras] came alongside with information regarding schooner." The report did not tell us what that information was. Manning log continues, "Noon to 400 pm Nth airs, overcast, smooth sea. 1250 underway stood various courses. around to the northward of Diamond shoal and in close to beach. Stood up along beach to northward searching for positive trace of wreckage lookout in crowsnest."
Acknowledgments and praise at the time: "The Coast Guard has continued to distinguish itself in its broad field of endeavor and presents record' of performances which is worthy of the highest commendation and markedly upholds the honorable history of the institution."
From Annual Report of the Secretary of the Treasury on the State of the Finances: Annual Report of the Secretary of the Treasury on the State of the Finances for the Fiscal Year Ended June 30, 1921, with Appendices, p.112.
The Story We All Know (or per Paul Harvey, "Page 2")
The cutter Manning's draft was too deep to get any closer to the Deering, so the Rescue was sent in. Upon finally being able to board and inspect the wrecked schooner, this is what they found:
Prepared food was found in the galley, indicating a very sudden departure. The two lifeboats were missing. Also, critically missing were all the documents, charts, navigational instruments, and the chronometer. Whoever took these knew what they were doing, for these items were crucial for navigating anywhere, but especially in the Outer Bank's Graveyard of the Atlantic. It was confirmed that the anchors were indeed missing, as reported earlier at Cape Lookout.
Further details that might have a bearing on the mystery were that red light distress signals had been sent up the mast. Inspection of the captain's cabin revealed a spare bed having recently been slept in and three pairs of boots that were left behind. Finally, Captain Wormell's handwritten log entries on the ship's map was replaced with another hand after January 23.
There are slight discrepancies in the details given by various accounts. The most reliable source is the extremely through research of North Carolina author Bland Simpson in his book Ghost Ship of Diamond Shoals.
There he tells us that none of the previous attempts to board the Carroll A. Deering had been successful – neither Coast Guard Stations Cape Hatteras 183, Big Kinnakeet 182, Creeds Hill 184, or Hatteras Inlet 186; nor the Coast Guard cutters Seminole or Manning.
Simpson's report is essentially the same as most but with details not found in many other sources. Now we learn the Deering's keel was found to be buried in fourteen feet deep into the sands of the Diamond Shoals. It took a massively tremendous force to bury that nearly-two-thousand-ton vessel that deep.
Most reports tell us that food was being prepared in the galley, but Simpson tells us specifically that it was a pot of pea soup, a pan of spareribs and a pot of coffee. All reports agree that the schooner was a total mess in addition to becoming a total loss. Now we learn "not only was the steering gear ruined, the wheel itself broken, the binnacle box bashed in and shattered and a nine-pound sledgehammer nearby. (To repair or destroy?) The rudder disengaged fifteen feet from its stock and stuck now slammed up through the deck." (Bland p. 23.) Finally, there are numerous discrepancies about the cat or cats found aboard. Some say it was a yellow one, others say it was one gray one, and some say it had six toes. Simpson says there were three cats.
The Rest of the Story…
The many theories to explain the mystery abound in numerous sources. The most common of these are covered in Chapter 16 of my book, entitled "Shipwrecks of the Outer Banks: Dramatic Rescues and Fantastic Wrecks in the Graveyard of the Atlantic." The point of this article was not to repeat those theories but rather to add overlooked details of what went on with the Deering and the Coast Guard during the five days of Monday, January 31 until Friday, February 4, 1921.
So, to once again quote Paul Harvey, "Now you know the rest of the story."