The surprising adventure behind republishing Kinnakeet Adventure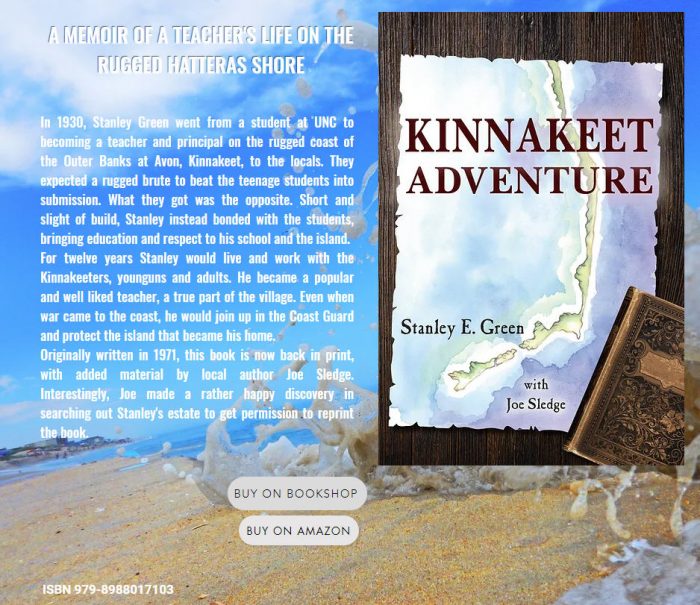 The book Kinnakeet Adventure is a bit of a local legend. There are a handful of Avon residents who own a copy, but for the most part, the first-person account of an Avon teacher in the 1930s has been lost after the book's first printing more than 50 years ago.
Only one edition was printed by author Stanley Green through a vanity press in 1971, (a publishing house where the author pays for all expenses), and it's likely that this first run resulted in 1,500 copies at the most.
Over the years, most of these copies have been lost, loaned out and never returned, or tucked away in major libraries hundreds of miles away, like at North Carolina's universities.
Local author Joe Sledge, who is perhaps best known for his Outer Banks ghost stories and entertaining Did You See That? travel guides, isn't even sure where he found his own copy of 1971's Kinnakeet Adventure.
"Now, it's part of the mystery of the book," he said. "I think that I bought the book in a used bookstore in downtown Burlington, or maybe in an antique store, but my wife thinks I picked it up at our home in Kill Devil Hills."
"In any case, after I read it, I thought 'This needs to be republished.'"
Kinnakeet Adventure was written and self-published by Stanley Green, who landed on Hatteras Island in 1930 for a teaching job in Avon, even though he had no idea where Avon was. Over the course of 12 years, Green chronicles life in the village, the years leading up to World War II, and one of the decade's most infamous hurricanes.
"This was before the dunes were built [in the 1930s], so the water just flooded across the island. Within a few hours, all the water let itself back out because they didn't have the dunes trapping the water," said Sledge. "I looked it up, and that was an account of a famous hurricane known as the Dominican Republic Hurricane, which killed 3,000 people in the Dominican Republic area. There's not a lot written about it – especially on the Outer Banks – so I thought this was important."
Green creates a rare memoir of life on the island nearly 100 years ago, and after reading his newly acquired copy, Sledge set out on a mission to get Kinnakeet Adventure republished.
He had recently completed a similar undertaking with the long-forgotten book Nag's Head. In 1850, George Higby Throop, under the pen name of Gregory Seaworthy, wrote a loosely fictional memoir about spending mid-19th century summers at the beach as an escape from Bertie County. Sledge discovered the book in 1987, and finally republished it in 2019, leaving the author's original words intact.
But republishing a book – and especially an old one like Nag's Head or Kinnakeet Adventure, is not as simple as finding a publisher. Sledge had to weed through Stanley Green's family tree in order to find family members who owned the rights, and who could give permission to reintroduce the 1971 work.
"As an author, I will go to great lengths not to take something that someone else owns," said Sledge. "I need to make sure someone understands they have the rights to it, and they understand the value of it."
So shortly after Sledge read Kinnakeet Adventure, the hunt for the owner of the book's publishing rights began.
The story takes a surprising turn…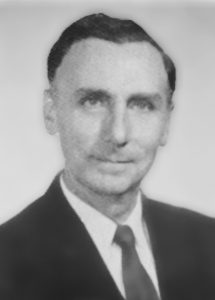 After some research, Sledge discovered that Green passed away in the 1990s. Sledge found his gravesite in Shelby, North Carolina, and soon discovered that he had no wife or children, but a large number of descendants, thanks to seven sisters.
"There were no direct descendants, and there are now 30 people I have to contact, and he never designated the rights to [his book]," said Sledge. "So, this was going to be a lot of work."
Regardless, Sledge started to track down these great nephews and nieces, from his mother's hometown of Boiling Springs all the way into Savannah, and found some odd coincidences along the way.
"I found it oddly fortunate that I had family in both Boiling Springs and Savannah, Georgia, on my mother's side," he said.
"One of the sisters married a man with the last name Bridges, and that really caught my eye, because we have Bridges in our family…  Then I saw that they had a son named Troy, and I thought 'Wait… is that my Uncle Troy?'"
Through all these coincidences, Sledge had uncovered that he was related to the Kinnakeet Adventure author, as Stanley Green was basically his granduncle through marriage.
"I called my mom, and she said, 'Yes, I met Stanley Green, and I have pictures of [your] brothers with him,'" he said. "So, the moral of the story is, call your mother."
An eerie letter from 'future me' arrives
Through family ties, Sledge tracked down his aunt, Annie Mae Bridges, and her son who managed the estate of Stanley Green. "I wrote to him and said I'd like to republish this, and also, we're distant cousins," said Sledge. "I told him I can't pay anything because it will cost a lot of money to publish it, and I don't know if I'll sell one copy, but I included a self-addressed stamped envelope for a signature."
After sending the letter, Sledge received no response. He mulled about it for a couple of weeks, but after a few months, it slipped off his radar as he dived into writing another book.
"Then six months later, I get the mail, and there's an envelope in there with my address, written by me," said Sledge.
At this point, he had forgotten all about the letter he sent months ago, and the arrival of the eerie, mystery letter from himself was thoroughly confusing.
"I'm a down-to-earth person and honestly I was freaked out," he said. "I thought, 'I wrote myself a letter? Is this from 'future me?' It sat on the table for about four hours, because I was scared to open it, and then it dawned on me that I know that that is, and sure enough, it was the signed [agreement.]"
"Who needs lawyers when you have family?"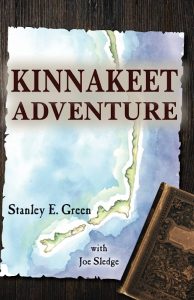 It took more than six months to get permission to republish Kinnakeet Adventure, and another three weeks to type out every word for publishing. "It was tough work because there are no digital copies," said Sledge. "I had to type out every single word in there, and I only found one typo."
Sledge added an appendix to explain some of the terms and phrases that might be unfamiliar to off-island readers, as well as a forward, but left every word that Green wrote the same. It was only after Kinnakeet Adventure was republished, with copies now available at Buxton Village Books and online, that he realized it had a cult following in Avon and beyond.
"In the book, he talks about how he felt like an outsider so much, and they eventually welcomed him and started calling him an 'Honorary Kinnakeeter.' That's when it stuck – people who remember him liked him," he said.
"At the time, I had no idea how important the book is to so many people. To me, it was just an important book to get back into people's hands. With the fascinating little bits of history in the book, republishing it was important… And if it's important to me, someone else is going to think this is kind of cool too."
"Now, this might end up being my bestselling book, and I didn't even write it."
During the process, Sledge and his family took a trip to Hatteras Island, where he popped into Buxton Village Books, which sells his other books, to have a conversation about the new Kinnakeet Adventure.
"[The owner] Gee Gee said she had tried to [publish] it too, but couldn't get the rights – she thought the same thing I did, that there might be a lot of lawyers involved," said Sledge. "Turns out, all you needed was some cousins. Because who needs lawyers when you have family?"
And thanks to his family ties, Kinnakeet Adventure has a new rightful place on local bookshelves everywhere, instead of in forgotten attics or library archives. Readily available to anyone who wants a copy, Sledge hopes the resurgence of Kinnakeet Adventure will help spark a new appreciation of local history, island life, and the account of a man who arrived a stranger and ended up being a respected community member.
"Books like these are rare. They need to be brought back, and they need a little tender love and care to make sure they are done right," said Sledge. "And I sure hope 'Uncle Stanley' would have appreciated this."