Where to score candy on Halloween; Hatteras Island's Trunk-or-Treating events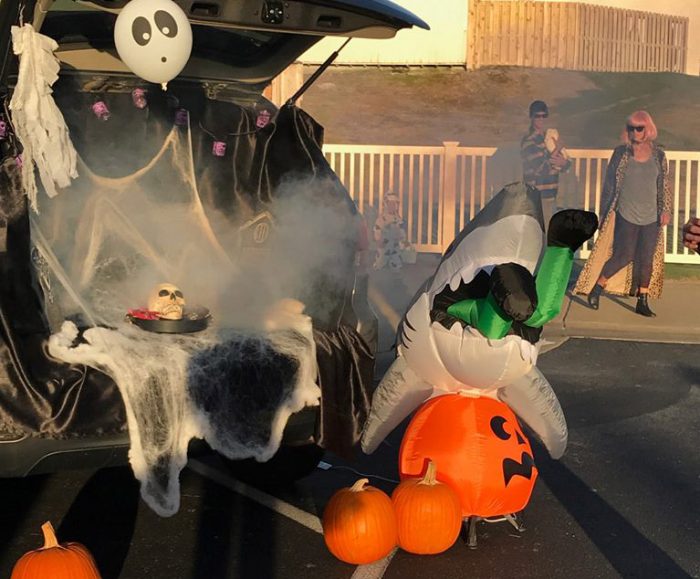 Halloween is gearing up to be a sugar-infused celebration on Hatteras Island, thanks to a number of family-friendly trunk-or-treat and trick-or-treating events that are wide open to the public.
Events scheduled for  Halloween night on Hatteras Island are listed below.
Note: If you have an event that you would like to add to the list, please email the Island Free Press at editor@islandfreepress.org.
Trunk or Treat – Avon 
Monday, October 31, 5 p.m. to 7 p.m.
The Beach Klub at Koru Village in Avon will once again be hosting its annual Trunk or Treat at the parking lot next to the Beach Klub and the Avon Pier. Volunteers will have their cars decorated with a spooky theme, and kids can walk around in a safe environment and trick or treat with friends and neighbors.
Trunk or Treat – Hatteras Village
Monday, October 31, starting at 5 p.m.
Hatteras village will be hosting a Trunk or Treat on Halloween night that starts with hot dogs, hamburgers, and drinks at the Hatteras United Methodist Church parking area, and which continues with the traditional Hatteras Trick or Treating experience through the village.
Trick or Treating – Frisco
Monday, October 31, 5:30 p.m. to 7:30 p.m.
The Heritage of Faith Church in the heart of Frisco will hold its 11th annual Truck or Treating event, "Light the Night," with family fun, food, games, and a free raffle for attendees, including the chance to win a new hoverboard. The event takes place at the church site at 52406 N.C. Highway 12, and is free and open to the public.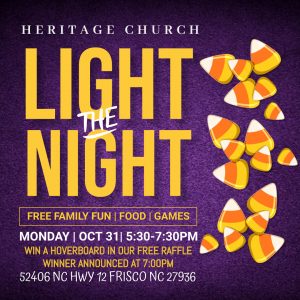 Trick or Treating – Buxton
Monday, October 31, 5 p.m. – 8 p.m.
Buxton will be featuring trick-or-treating in the Cape Point Estates neighborhood, in the Diamond Shoals Drive area. This year, the evening will also feature a hay ride, a haunted trail, and Halloween portraits by Eric Alter Photography.