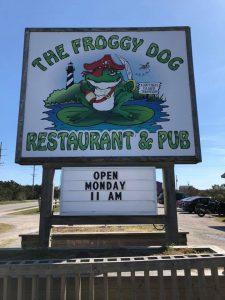 For the first time in more than 25 years, the Froggy Dog restaurant is opening its doors for the 2019 season with new owners. But longtime fans of the Avon eatery, which first launched as a hot dog stand a few decades ago, will find that the Outer Banks landmark is in very capable hands.
Julia Taft and her son, Blake Taft, have a wealth of experience in the restaurant industry, and especially on a local scale. Julia owns and manages Cups and Cones, Muffins and Scones, and Subway – all located in Avon – while Blake has built his career on catering and restaurant management.
The sale of the Froggy Dog was made official on April 1, and in the days that followed, the Froggy Dog has been a whirlwind of activity in anticipation of a Monday, April 8 grand re-opening.
And while so much of the restaurant will remain the same – from the signature hot dogs to the pub-like feel of the dark wooden walls and ceilings – there are ample changes for visitors and locals to look forward to in the months to come.
"We are enhancing [many aspects] of the Froggy Dog, but we're keeping the history, too," says Blake. "We're looking towards the future, but we're keeping the past."
"Many people have asked me 'Are you changing the name?' and I say 'Why would we do that? – It's the Froggy Dog.' We're keeping the things that are important to guests who have been coming here for years, and that starts with the name."
One thing that will shift is the focus on guest experience, and offering something a little different on the Hatteras Island dining scene.
"We want people to get something here that you can't find anywhere else," says Blake. "Our gusts will find that they are having a unique and fun experience – even if they aren't expecting one."
Enter the pirates.
The interior décor of the Froggy Dog is about to be transformed into a ship-worthy setting, where hundreds of yards of sails and ropes will drape from the ceiling rafters, and lanterns will grace the tables. Saturdays and Wednesdays will be "pirate nights" with appropriately dressed staff, and all guests who come in their best pirate gear will be treated to a free appetizer.
"It's the Outer Banks, and pirates and the Outer Banks go hand in hand," says Julia.
"We're going to create this fun and entertaining atmosphere – almost like a stage," says Blake. "It will really be something unique, and will almost feel like a captain's quarters."
The gift store on the second level of the Froggy Dog will also be moved downstairs to make way for a private dining area, where special wine pairing dinners, events, and private occasions can be held and celebrated. A second bar which is located in the main dining room, and which hasn't been operational in recent memory, will also be revitalized and reopened to provide additional dining options for large gatherings, while the main lounge will be enhanced with a pub-like feel, and plenty of grog to go around.
"We're going to have a wine selection like nowhere else," says Blake, "and we're going to have a large focus on craft brews and North Carolina beers. Essentially, we're taking the dining experience up a level."
The lunch and dinner menus are also going through a bit of a transition, while still keeping the familiar staples. The classic items like the famed assortment of hot dogs, burgers, and of course frog legs will remain on the menu, but there are some new additions to cater to gluten-free and vegetarian appetites, and to provide something distinctive on the Outer Banks restaurant scene.
"It's basically a whole new menu overhaul," says Blake. "We're keeping all the items that people know and love, but we're using new, made-from-scratch recipes. We've put an excruciating amount of thought in the new menu."
"It's not a small menu, either – there are lots of options so you can try something new with every visit," he adds. "We're a big fan of options."
Of course, the Froggy Dog has always been a popular watering hole over the years, and this reputation won't change. (For example, weekly Karaoke at the Froggy Dog is here to stay.) However, patrons can expect some new ways to stay entertained this summer, which includes pub trivia nights, and musical bingo – where an intricate knowledge of the last four decades of music will come in handy.
This new focus on an enhanced and elevated décor scheme, menu, and entertainment is to delight the new and longtime guests that walk through the doors, but it's designed to cater to locals as well.
"We place a lot of value on our local clientele," says Blake. "We want people who live here year-round to feel like they have a place to go for something fun and different."
In that vein, and similar to Muffins and Scones which stayed open throughout the winter, the Froggy Dog will likely have a lengthier season in 2019, and will stay open well into the fall and winter months.
"We may close for six weeks in January, but I'd rather stay open for most of the year and keep our employees employed," says Julia. "We don't have to make money in the winter – we just have to cover payroll for our employees. Local people need that year-round income."
From the outside, the Froggy Dog hasn't changed too much in the days leading up to its grand re-opening. The sprawling 1973 structure still has the green roof, cedar-shaked exterior, and central locale in the heart of Avon.
But look closer, and you'll notice a few changes already in the works. The famed frog in the logo now dons an eyepatch, a sword, and a bottle of grog. The interior bar is rapidly being renovated, as cases of tempting wines from California or Argentina or Chile arrive daily.
Big changes and big enhancements are in the works for the Froggy Dog, from the décor to the scratch-made desserts. But the inherent flavor of this Avon landmark – which has been known as a popular spot to eat, drink, and be merry for several generations now – will remain the same.
"We're creating things that maintain the experience of dining at the Froggy Dog, but for a new generation, and a new wave of guests" says Blake. "Basically, we're keeping the old traditions, but also making new ones. We're building on that history to take the Froggy Dog up a notch, and to provide something new."
Froggy Dog will be Hosting a Grand Reopening on Monday, April 8 at 5:30 p.m. Drink specials will be running all day long, and the reopening will include free giveaways, and more. The public is welcome to attend.