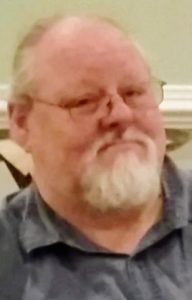 Kerry Wayne Felty, age 61, of Clayton, NC passed away peacefully in his sleep into the Lord's arms on Wednesday, February 20, 2019 in Buxton, NC. Born on October 1, 1957 in Greenville, KY to Jerry Wayne Felty and Janet Lou Tyson Sperber, he worked in the Information Technology field in Raleigh until 2011. Since that time, he was an office manager at his sister's pest control company. He loved cooking and gardening. A great son and brother, he will be deeply missed.
In addition to his father and mother, he is survived by a sister, Kathy Felty McGuinness (Blair) of Buxton, NC; two brothers, Kelly T. Felty (Stacy) of Cochranville, PA, and Kevin P. Felty (Evelyn Ozo-Felty) of Norfolk, VA; and his nieces and nephews, Sarah Gedminas, Eric McGuinness, Christopher Felty, Knicki Felty, Ryley Felty, Morgan Felty, Justine Alexis Felty, Jenna Consuelo Felty, and Jordan P. Felty.
A graveside service will be held at 2:00 p.m. on Sunday, March 3, 2019 at Cedarwood Cemetery, Hertford, NC officiated by the Rev. F. Joe Griffith. Twiford Funeral Home, 405 East Church Street, Elizabeth City, NC is assisting the Felty family. Online memorial condolences may be sent to the family at www.TwifordFH.com.