S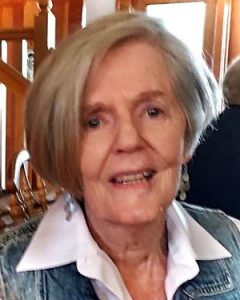 eptember 8, 1937 – November 26, 2020
MANTEO — Ann B. Bell of Manteo, NC died on November 26, 2020 in her home. She was 83 years old. Ann was born in Chester, SC, the daughter of the late John Sidney and Willie May Blaney. She was also preceded in death by her husband, Roger Q. Bell; a sister, Kathryn Laube; and a brother, John "Sonny" Blaney.
Survivors include a daughter, Allyson Bristow (Glen) of Costa Rica; a son, Greggory Bell (Katy) of Manteo; grandchildren August Bell, Chris Bristow (Carrie), Monica Bristow (Brett) and Zachary Bristow; great-grandchildren Isabella, Ruby, Hayden, Gavin, and Peyton; a brother-in-law Quentin Bell (June) of Manteo; a sister Sarah Collins (David) of Chester, SC; and a sister Mary Tassone of Winslow, AZ. Treasured friendship survivors are Mary Blanche Harwell (Boyce) of Manteo; Sande Rogers (Dave) of Manteo; Robin York of Manteo and Billie Maddox of Niceville, FL.
Also, a special thank you should be noted for the loving care provided by Cindy Robertson of Kitty Hawk; Jurate Sirviskaite of Manteo; Lynn Mills of Manteo; Elizabeth Lyttle of Manteo and the services of Albemarle Homecare and Hospice.
Ann lived a very active life. She finished her education at Winthrop University as a teacher of home economics. Her passion for sewing led her to Manteo as a costume designer for the Lost Colony. She met and married Roger Bell, naval aviator. As a military wife, she lived internationally. In the early 80's, Ann returned to Manteo and started her business, the "Wedding Bells". For almost, 35 years she helped bring the destination wedding and floristry business to the Outer Banks. She will be remembered fondly by hundreds of couples who were married in her outdoor chapel on Roanoke Island. She was extremely proud of her children, telling most who knew her about having two NC State engineers and of course, the smartest grandchildren. She also devoted her time to community service through the Roanoke Island Woman's Club, the Roanoke Island Garden Club and her charter membership with the Roanoke Island Presbyterian Church. Ann was a 15 year survivor of esophageal cancer. She spent her last several years enjoying the services provided by the Dare Center and GEM.
In accordance with her wishes, Gregg and Allyson will place Ann's cremated remains next to her husband at Roanoke Island Memorial Gardens. Anyone wishing to honor Ann's memory may do so through a donation to the Roanoke Island Presbyterian Church or The Elizabethan Gardens.
Twiford Funeral Homes, Outer Banks is assisting the family with arrangements. Condolences and memories may be shared at www.TwifordFH.com