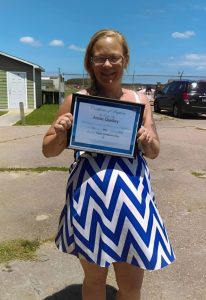 April 4, 1979 – October 10, 2023
Annie Noelle Quidley, age 44, of Raleigh, NC, passed away on October 10, 2023. Born on April 4, 1979, in Manteo, NC, Annie was the beloved daughter of S.M. Quidley and the late Judy Lynn Vannatta Quidley.
Annie attended Currituck County High School before graduating from Manteo High School, where she was a varsity cheerleader. She then pursued a career as a waitress, providing friendly and dedicated customer service.
Annie's strong faith led her to become a member of Father's Tabernacle Worldwide Kingdom Ministries, where she was baptized and found comfort and solace in the presence of God.
Annie will be deeply missed by her loving father, S.M. Quidley, of Chelsea, MA. She leaves behind her cherished children: Anaiya Michelle Brown, Logan Kasey Brown, Messaiah Cash McMurran, Malikai Kane Quidley, and Kaden Illias Davis.
Services to honor Annie's life will be held at Twiford Colony Chapel. A viewing and visitation will take place at 10:00 am on Friday, October 20, 2023, followed by a funeral service at 11:00 am. The service will be officiated by Pastor Jerald Craddock, who will guide family and friends as they gather to remember Annie and find comfort in their shared memories. To live-stream Annie's service, visit www.TwifordFH.com.
During this difficult time, may we find strength in the memories we shared with Annie and the love she brought into our lives. She will be forever remembered for her kindness, her dedication to her family, and her unwavering faith in God. May her soul rest in eternal peace.
Twiford Funeral Homes, Outer Banks, is assisting the family with arrangements. Condolences and memories may be shared at www.TwifordFH.com.