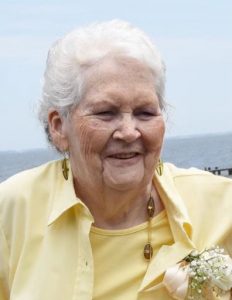 February 13, 1942 – December 18, 2021
NAGS HEAD — Beatrice Grubbs Robbins, 79, of Nags Head, NC went to be with the Lord Saturday, December 18, 2021, at Peak Resources – Outer Banks.
A native of Manteo, she was born February 13, 1942, to the late Beatrice Midgette and George Lewis Midgett.
A charter member of Manteo Faith Baptist Church, Beatrice enjoyed studying the bible. She also found joy in gardening, reading, visiting friends, and spending time with her family.
Mrs. Robbins is survived by three sons, Robert Grubbs (Betty), William Grubbs (Gayle), and Larry Grubbs (Wilhelmina); seven grandchildren, Candice May, Christin Cain, Amanda Walker, Ashley Eason, Lindsey Jones, Caitlyn Grubbs, and Charley Grubbs; and eight great-grandchildren. Also, surviving are two sisters, Janet Tillett and Betty Duncan; one brother, Issac Midgett; and numerous nieces and nephews.
In addition to her parents, Beatrice was preceded in death by her loving husband of many years, George Robbins; great-grandchild, Alexis Burns; three sisters, Carolyn Johnson, Laura Jones, and Martha Ann Beasley; and three brothers, Sheldon Midgett, Claude Midgett, and Ronnie Midgett.
A memorial service will be held at 1:00 pm on Saturday, January 8, 2022, at Manteo Faith Baptist Church.
To plant a tree in memory of Beatrice or send flowers to the family, please visit www.TwifordFH.com/send-flowers.
Twiford Funeral Homes, Outer Banks is assisting the family with arrangements. Condolences and memories may be shared at www.TwifordFH.com.