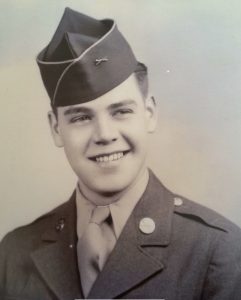 KILL DEVIL HILLS — Charles R Pelic, age 97, of Ambridge Pennsylvania passed away peacefully on Sunday September 3, 2023, in Spring Arbor of the Outer Banks, Kill Devil Hills, North Carolina. Chuck lived a long and illustrious life filled with challenges, fun, and laughter with very loving children, who supported him after his beloved wife Elizabeth passed 30 years ago. He was married to Betty for 43 years.
Chuck is survived by his daughter Linda Pelic-Stradtman (Terry M. Stradtman) of Avondale, PA and his son Charles A. Pelic (Beth Washler Pelic) of Cedar Rapids, Iowa, his son-in-law Robert A. Ross from Nags Head, NC; His Grandchildren: Lauren Ross Peeples (Andrew) of Columbus, Ohio, Elizabeth Stradtman (Benjamin Diaz) of Baltimore, MD, and Sarah Washler Matheny (Cameron) and Molly Washler Kalb (Tyler) both from Cedar Rapids, Iowa; He has 5 Great Grandchildren: Henry and Emily Peeples, Max and Griffin Matheny, and Brooks Kalb; Nieces Lisa Listorti and Margie Mihalic; Nephews Ronald and Robert Miskulin and Paul Mihalic.
Chuck was preceded in death by his wife, Elizabeth Bilo Pelic, his eldest daughter Charlotte Ann Ross from Nags Head, NC and his daughter-in-law Denise Quigley Pelic from Ottumwa, Iowa; His parents Helene Belobrajdycz and Anton Pelic from Ravna Gora, Croatia; His sisters Ann Mihalic and Mary Miskulin and brothers Anthony (Tonch) and Albert Pelic all from the Ambridge Area in Pennsylvania.
Chuck was born July 27, 1926 and raised in Ambridge, PA. In 1944, Chuck went to serve in the U. S. Army during World War II and spent time in Camp Croft in North Carolina for boot camp. Chuck's stories were mesmerizing. He described the first time he ever saw oysters and okra. Coming from Western Pennsylvania, where neither item had ever been seen before let alone served on a plate to eat, he took one look at what they were serving and described both as too slimy and too disgustingly mushy looking to eat, so he had a half gallon of ice cream at the KP instead. Chuck talked of the ship convoy he was part of that left New York City and sailed to Europe. He spent time fighting in France and Germany, where he was wounded in combat and left for dead but was picked up and taken to a hospital in France. He would never talk about the bad things he experienced overseas, only the funny things. When he came home from the hospital in France, Chuck worked at National Electric and J&L Steel in Ambridge for most of his life and was proud of the work they did making steel girders for bridges and electrical wiring for buildings and telephone lines.
Chuck was also an entrepreneur owning his own gas service station in Ambridge and car detailing business. He was an engineer at heart but lacked formal training. He could fix and build just about anything from doll houses for his granddaughters to creating a large deck in his backyard. Chuck was extremely creative and liked reconditioning cars as well as building model cars, airplanes, and ships which included adding those incredibly small details to each item he produced. He was extremely creative, solving various problems in his workshop where he owned just about every tool imaginable. An animal lover at heart, Chuck was always taking in stray animals he found or the ones
that found him. At one point, he had as many as 2 dogs and 6 cats living in his home. Chuck hand fed the squirrels and chipmunks on his property, and he always had room for any of God's creatures who needed a warm place to stay.
A celebration of Chucks life will be held in 2024. In lieu of flowers, please honor Chuck's legacy by donating in his memory to your local animal shelter or Wounded Warrior Project. Gallop Funeral Services is entrusted with the arrangements. Please share your condolences with the family at gallopfuneralservices.com.