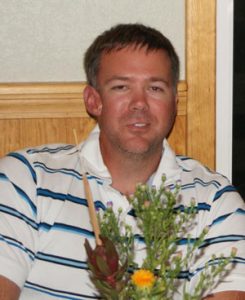 July 8, 1980 – December 23, 2022
HATTERAS — Christopher Stephen Hickman II, 42, of Hatteras, NC passed Friday, December 23, 2022, peacefully at his home after a valiant fight against cancer.
Born in Elizabeth City, NC on July 8, 1980, he was the son of Lesley Scarborough Hickman and Christopher Stephen Hickman.
A Cape Hatteras High School graduate, Stephen continued his education at the University of North Carolina at Chapel Hill earning his bachelor's degree.
Stephen then served his community as a Sergeant with the Dare County Sheriff's Office, among other positions, since 2004.
In addition to his parents, he is survived by his wife, Carinne Robinson Hickman; daughter, Taylor Ann Hickman; sister, Jessica Barnett; nephew, Grayson Barnett; and his extended family and friends.
As a lifelong resident of Hatteras, Stephen was an athlete and avid waterman. He enjoyed playing basketball, soccer, baseball, commercial fishing, hunting, and most of all, sharing his knowledge of these with his daughter and family.
A celebration of Stephen's life will be held at 2:00 pm on Tuesday, December 27, 2022, at Hatteras United Methodist Church.
In lieu of flowers, memorial contributions may be made to Cape Hatteras Secondary School, PO Box 948, Buxton, NC 27920, to support the Athletic Department for students and athletes.
Twiford Funeral Homes, Outer Banks is assisting the family with arrangements. Condolences and memories may be shared at www.TwifordFH.com.