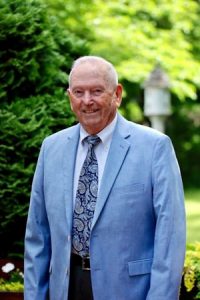 December 26, 1931 – April 9, 2023
MANTEO — Clarence P. Skinner II passed from this life into his eternal home on Easter Sunday, April 9, 2023.
Clarence was born on December 26, 1931, in Manteo, North Carolina, the son of Clarence P. Skinner and Laura Lee Smith Skinner.  His grandmother and grandfather, Herman Cornelius Smith and Pattie Lee Smith, provided a loving home for him and his sisters after the early passing of his father and mother. Manteo provided a young Clarence with freedoms and adventures that he loved to share with his family. Many days were spent swimming in the sound, the ocean, fishing, playing games, doing chores, and coming home to a delicious, home-cooked meal prepared by his beloved grandmother.  His childhood home, now a historical home in Manteo, was a humble place, filled with many other family members and a rich love that Clarence often enjoyed reflecting upon.
His grandparents noticed his interest in "tinkering" and set up a little barn for him where he spent much time working with nuts and bolts, wood, wires, and repairing appliances.  He was extremely industrious and found numerous ways to earn enough money to pay for flying lessons by himself while in high school.  During his high school years he noticed a new girl named Rose Austin, who had moved to Manteo.  He began "courting" Rose by roller-skating to her doorstep on Sunday afternoons with a bottle of Orange Crush soda pop in his hand. They would spend the afternoons sitting on a sofa, listening to music on the radio, and enjoying the Tollhouse chocolate chip cookies that Rose had made for their "date."
In 1950, Clarence graduated from Manteo High School and embarked on a career with the United States Air Force.  A year later, following Rose's graduation in the summer of 1951, they married at the Manteo Baptist Church.
A mere two weeks after their wedding, Clarence was called to serve in Korea for 18 long months without his new bride, Rose. They wrote letters constantly, and the letters, which Rose kept, are now treasured family heirlooms.
Upon returning from Korea, a 25-year career with the Air Force took Clarence and Rose all over the world as they raised their three children, Laura Skinner Rhodes, Bud Skinner, and Mark Skinner.  Living overseas in France, England, Japan, and Okinawa, with trips to Italy, Switzerland, Belgium, Holland, Brussels, and Germany, provided many unique cultural experiences that the whole family still enjoys reflecting on at their gatherings. They also enjoyed living briefly in the USA in Texas, Mississippi, and Nebraska.
Clarence's early military career included; overseeing three squadrons of soldiers servicing B-26 aircraft that specialized in SHORAN bombing in 1954, becoming a navigator in 1959, completing Electronics Warfare Training in 1960, and working with senior military officers from foreign countries (many with WWII experience) to study future warfare methods.
In 1963, he supervised an electronic intelligence data processing center in a secure section of the SAC headquarters at Offutt Air Force Base. Also, he flew with the Airborne Command Post in EC-135 aircraft, the 82nd SRS in RC-135 aircraft, and Base Flight in T-29 aircraft.
In 1965, he went on a special assignment to Vietnam and later did frequent flights into the Vietnam Combat area. In recent years the family has learned of numerous secret missions that Clarence flew into China, the Philippine Islands, and other areas. The numerous medals he was awarded for his military service are notable, and his daughter requested that he wear all of them at her wedding in 1974!
In 1975, Clarence retired from the Air Force and returned to his beloved hometown of Manteo. His retirement, however, was more like a "re-firement" and he enjoyed several more careers in the Outer Banks area as; Director of the Outer Banks Medical Clinic, Manager of the Dare County Regional Airport, Associate broker/real estate agent with Jim Perry & Company, a Dare County Commissioner, a charter member of the Outer Banks Hospital Board and member of the Pitt County Hospital Board.
The Mount Olivet United Methodist Church held a special place in the heart of Clarence. He enjoyed teaching middle-school Sunday school classes and later the Men's Sunday School class, serving on the finance committee, and participating in a mission trip to Bolivia.
Life in Manteo continued to be a blessing to Clarence into his 90's, where he was surrounded by numerous family members and lifelong friends.  His love of gardening was evident to all who visited and he supplied numerous families with fresh tomatoes, green beans, hot peppers, grapes, kiwi, and other unique vegetables. The varied backdrop of flowers he cultivated, with blooms nearly year-round, made their home a beautiful sanctuary for all who came to visit.
Clarence's love of "tinkering" extended into his later years, and when not in his garden, he could often be found in his Quonset hut that held more nuts & bolts imaginable! This "barn" was the first spot every grandchild wanted to visit, and many hand-made toys, projects, and memories were created in this favorite spot.
During his life, Clarence enjoyed other diverse hobbies; building a plane that he flew many times, obtaining a ham radio operator's license, collecting railroad artifacts in the wilderness of the Alligator River area, and evening telescope views of the stars, all of which he knew by name, as a navigator in the Air Force.
Clarence is survived by his dearly beloved wife of almost 72 years, Rose Skinner, and he has left a great legacy to his children, Laura Lee Skinner Rhodes, Clarence P. Skinner III, (Bud)  and his wife, Laura Belle, and Mark Saxon Skinner and his wife, Christine; grandchildren, Rebecca Rhodes Ladikos, James Caleb Rhodes, Amanda Skinner Landry, Jessica Skinner, Lauren Skinner North, Meredith Skinner Veder, and Saxon Skinner; and great-grandchildren, Sophia, Lilly, and Noah Rhodes, Alexa Ladikos, Hailey and Matthew Landry; and his sister, Betty-Alice Skinner Mann.
Clarence was preceded in death by his parents, Clarence P. Skinner and Laura Lee Smith Skinner; his sister, Marguerite "Tootsie" Lee Skinner Thomas; and his son-in-law, James Rhodes.
Clarence's life will be celebrated at the Mount Olivet United Methodist Church in Manteo, North Carolina, on Monday, April 17, 2023, at 2:00 pm.
Twiford Funeral Homes, Outer Banks is assisting the family with arrangements. Condolences and memories may be shared at www.TwifordFH.com.