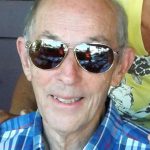 June 21, 1933 – February 12, 2019
KILL DEVIL HILLS — Claude Michel Dubresson passed away in his home in Colington on Tuesday, February 12, 2019. He was surrounded by love and family in his favorite environment.
Mr. Dubresson was an incredible entrepreneur, friend, and above all, a man of integrity with the highest of work ethics.
A French immigrant to the United States in 1962 with sponsors, ahead of his wife and 5-year old daughter; this modern pioneer left a trail of inspiration to everyone whose path he crossed. His dream of returning to the seaside with his family was realized early on and he never looked back. Mr. Dubresson was known to all as a man of perpetual motion, a master of carpentry and devising resources when none could be found. Impossible feats were not in his vocabulary.
He is survived by his wife, Colette Dubresson, daughter Marianne Dubresson, three grandsons (Eric, Adam, and Benjamin Young), and his great-grandson, Caleb McElwee. We miss you Papy.
In keeping with his wishes, there will be no service at this time.
Twiford Funeral Home, Manteo is assisting the family with arrangements. Condolences may be expressed at www.TwifordFH.com.