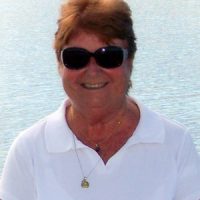 May 2, 1936 – February 15, 2019
KILL DEVIL HILLS — It is with great sadness and a heavy heart that we announce the passing of Colette Dubresson, 82, of Colington, on Friday, February 15, 2019, merely 3 days after the loss of her husband, Claude Dubresson. She was surrounded by love in her beautiful home, for which she was eternally grateful, at all times. Her friends were part of her family.
My mother was one of the most compassionate people I have ever known. She knew the true meaning of 'joie de vivre' and was truly a people person. She lived each day to its fullest. Her kind soul touched all who ever had the privilege of her encounter.
She especially enjoyed meeting new people and finding out their heritage. She believed that everyone had a special story to tell and be proud of.
Having immigrated to the United States in 1962 with her late husband and 5-year old daughter, she was a survivor in the truest sense of the word, having endured hardship but always making the best of any situation and sacrificing for her family.
My mother was an avid flat-water kayaker and always willing to share her knowledge of the 'water world'. She loved the Outer Banks, its inhabitants, and splendid beauty.
Mrs. Dubresson is survived by her daughter, Marianne; three grandsons, Adam, Eric, and Benjamin Young; and one great-grandson, Caleb, all of whom she adored. We miss you Mima. She was preceded in death by a daughter, Annick.
In lieu of a funeral, friends may call or stop by to recounter stories and help share in the celebration of my parents' life. I love you Maman
Twiford Funeral Home, Manteo is assisting the family with arrangements. Condolences may be expressed at www.TwifordFH.com.