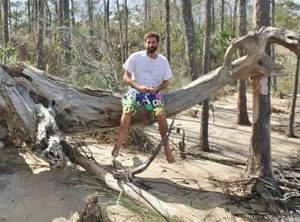 November 16, 1991 – March 11, 2022
MANTEO — Dallas Colby Twyne, 30, of Manteo, NC died unexpectedly Friday, March 11, 2022.
A native of Dare County, he was born November 16, 1991, to Marcy Rogers Mann (Edward) and Donnie Wayne Twyne.
An avid waterman, Dallas worked as a commercial fisherman and was happiest when he was on the river, sound, or ocean. He could build and fix anything and master any trade he put his mind to. Dallas loved his family and favorite dog June Bug. He loved to find and sell driftwood and make decoys for friends and family. Always loyal, he showed love for everyone everywhere he went. He was lively, spunky, hilarious, and loved to tell jokes and keep people smiling. Never idle, Dallas always kept busy with new projects, jobs, and activities. He loved life and loved it to the fullest every single day.
In addition to his parents, Dallas is survived by his wife, Caitlin Hannah Byrum Twyne; sister, Tess Meekins; stepsister, Cheryl Mann Grather; stepbrother, Eddie Mann; numerous aunts, uncles, nieces, nephews, and cousins; and his chocolate lab, June.
A memorial service will be held at 2:00 pm on Thursday, March 17, 2022, at Bethany United Methodist Church with Rev. Dr. Susanna W. Fitch-Slater and Rev. Kenny Midgett officiating.
A graveside funeral will be held at 2:00 pm on Monday, March 28, 2022, at Manteo Cemetery.
In lieu of flowers, memorial donations may be made to Bethany United Methodist Church Break the Chains Fund, PO Box 239, Wanchese, NC 27981.
Twiford Funeral Homes, Outer Banks is assisting the family with arrangements. Condolences and memories may be shared at www.TwifordFH.com.