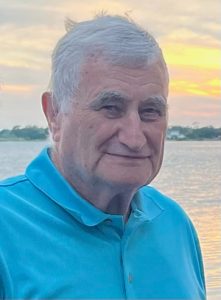 June 4, 1943 – February 9, 2023
SOUTHERN SHORES — Dan Shipley, Jr.,79, passed away unexpectedly and suddenly on February 9, 2023. His wife, Linda – always by his side – was with him when he passed.
Dan was born on June 4, 1943, in Hazard, Kentucky, to Grace (Gross) and Dan Shipley. Dan was preceded in death by three brothers: Lyman, John, and Kenny, as well as his sister, Phyllis.  He is survived by his wife Linda Hardison Shipley, daughter Denise (Ron Saxton), son John, grandsons Chris, Marc, and Kory, great-granddaughter Rory, his brother Dusty, his sisters Delores and Sue, and many nieces and nephews.
Dan graduated from Williamston High School in 1962 and attended East Carolina University, majoring in art.  He worked for the Macke Food & Vending Services Company in their design department, Service America Corp. (Servomation), and finished his career working for the General Services Administration (GSA) as a Lead Building Management Specialist, retiring on December 31, 2004.
Dan's family was everything to him. He will be remembered as a wonderful husband, father, grandfather, and for his sense of humor, artistic talents, extraordinary DIY home renovation and remodeling abilities, and lending a hand to anyone who needed it.
A celebration of Dan's life will be held on Friday, February 17, 2023, in a graveside service at Southern Shores Cemetery at 2:00 pm.
Twiford Funeral Homes, Outer Banks is assisting the family with arrangements. Condolences and memories may be shared at www.TwifordFH.com.