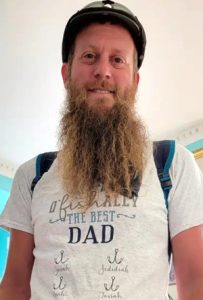 August 14, 1987 – April 27, 2023
KILL DEVIL HILLS — Daniel Martin Dickens, known to all as Dan, passed away on April 27, 2023, in Kill Devil Hills, NC at the age of 35. Born on August 14, 1987, in Dearborn, Michigan, Dan touched the lives of countless individuals with his kindness, warmth, infectious smile and listening ear.
Dan is survived by his four loving sons, Josiah Daniel Dickens, Jedidiah Daniel Dickens, Noah Daniel Dickens, and Toviah Daniel Dickens, all of Lynchburg, VA. He is also survived by his devoted mother and stepfather Mary and Kenneth; his caring sister, Elise Ann Longley of Wylie, TX; his supportive brother, David Alan Dickens (Kristen) of Kill Devil Hills, NC;  half-brother Michael Dickens, stepbrother Kenneth (Annie) Briere and stepsister Jennifer (Matthew) Phillips all of Michigan, and John (Luisa) Briere of TX, his loving Grandmother Joyce Mantey of Constantine, MI along with loving aunts, uncles and cousins and special friends Adam and Aviva Cobb. Dan was preceded in death by his father, Michael Kevin Dickens his precious daughter, Adah Lynn Dickens, and grandparents Bruno and Maxine Fudoli, Richard Mantey and Carlton Dickens.
A proud graduate of Jefferson High School in Monroe, MI, Dan went on to attend Monroe County Community College and the Virginia Military Institute. He ultimately earned his bachelor's degree from Liberty University, an accomplishment that brought him immense satisfaction and pride. Dan's dedication to his education was reflective of his lifelong love for learning and personal growth.
Dan was a hardworking and dedicated employee, serving as a manager at Sound Feet Shoes. His colleagues and customers alike appreciated his friendly nature and genuine care for their well-being. Always willing to lend a helping hand or offer a kind word, Dan's presence was a testament to his commitment to making the world a better place.
A man of many interests, Dan's greatest love was being a father to his four beautiful boys. He cherished every moment spent with them, teaching them the importance of kindness, compassion, and the value of hard work. Dan's love for his children will continue to live on in their hearts and the lives they lead.
In addition to his love for his family, Dan was an avid fisherman and nature enthusiast. He found solace and peace in the great outdoors, often sharing his passion with his sons and other loved ones. Dan's appreciation for the beauty and serenity of nature was a constant source of inspiration to those around him.
Throughout his life, Dan consistently embodied his favorite motto, "Be Kind and Do Good." His loving, kind, and friendly nature touched the lives of everyone he met, leaving a lasting impact on all who had the pleasure of knowing him. Dan's memory will live on in the countless acts of kindness and goodness he inspired in others.
A private celebration of Dan's life was held by his immediate family at his favorite place, sunset at the sound, to remember the incredible man he was and the beautiful life he led.
In lieu of flowers, the family asks donations be made via GoFundMe at https://gofund.me/3d7cd62a.
Daniel Martin Dickens will be dearly missed by all who knew him, yet his spirit will live on through the love he shared, the good he did, and the cherished memories that will remain in the hearts of his family and friends forever. May he rest in peace, surrounded by the beauty and serenity of the nature he so loved.
Twiford Funeral Homes, Outer Banks is assisting the family with arrangements. Condolences and memories may be shared at www.TwifordFH.com.