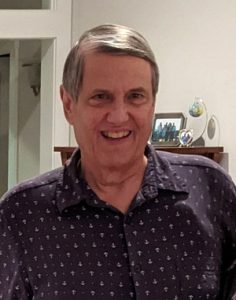 KITTY HAWK — David James Ruch, 77, passed away peacefully on March 28, 2023. He was a devoted husband to his wife of 51 years, Kathe Sue (Bachmann), and a loving father and grandfather to his two children and six grandchildren: Karl David, (wife) Julie, Pierce, Keaton, and Fiona Ruch of Asheville, NC and Beth Lynne Ruch, (husband) Chris, Madelynn, Abigail, and Hunter Stockel of Superior, CO.
Dave was born on March 16, 1946, in Akron, Ohio. Dave was preceded in death by his parents, L. Dow Ruch and Alice D. Ruch. He is also survived by his brother, W. Dow Ruch, and sister, Kathleen R. Brightman, and their families.
After graduation from Revere High School, Bath, OH, Dave attended Baldwin Wallace Conservatory of Music for two years. In 1969, he earned the degree of Bachelor of Science in Education (vocal music, speech, and theater) from Otterbein College. Dave began work as a teacher in the Granville, OH schools. In 1971, Dave accepted a management trainee position with Sears, Roebuck, and Co. in Akron, OH. In the mid-1970s, Dave's career path followed a new direction forward with various companies including Ryan Homes, W.R. Grace, Mirafi, and Genflex (Omnova), for local, regional, and national construction products sales and marketing.
As Dave's career grew, the Ruch family moved numerous times across the USA declaring each move a new adventure! Dave, Kathe, Karl, and Beth lived in the North, South, East, and West. His family learned to camp and ski in the Rockies, appreciate America's history, swim in the Atlantic Ocean, make new friends everywhere, and much more. In time, North Carolina became home, a state with both mountains and a seashore.
Faith, family, and country were most important to Dave. His faith in God was nurtured from a young age, and he lived his faith. Dave was a hands-on guy, always building, fixing, or remodeling, wanting to make a better life for his family.
God's work through many human hands and the miracles of modern medicine provided Dave with a full and blessed life. Since 1967, when his heart was first mended, he remained a patient of the Mayo Clinic for 55 years. From a young age, Dave's piano music provided him with many opportunities. His gift of music lives on through his children and grandchildren. ~
If desired, memorial donations can be made to:
American Heart Association, 7272 Greenville Ave., Dallas, TX 75231
Grace Lutheran Church by the Sea (music program), P. O. Box 1356, Nags Head, NC 27959
Mary's Hospital (Mayo Clinic), 200 First St. SW, Dept. of Spiritual Care, Joseph M-61, Rochester, MN 55905
David's memorial service will be held at Grace Lutheran Church in Nags Head Saturday, May 13, 2023, at 10 am.  Please share a message of hope and love at www.gallopfuneralservices.com. Gallop Funeral Services, Inc. was entrusted with arrangements.