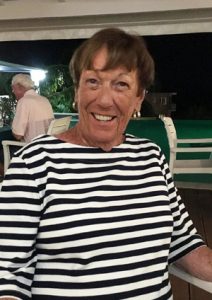 SOUTHERN SHORES — Donna Elaine Countryman, 82, of Southern Shores, NC, passed away May 4, 2023. Donna was truly a light in everyone's life. Donna was preceded in death by her husband and best friend Milton Emerson Countryman. She is survived by her daughter, Debbie Countryman her partner Thomas Robeson; her son Kurt Countryman, his wife Robin their three children Ryan, Dylan, and Kasey; and her daughter, Jody Tuohey, her husband Brendan and their three children Anna, Maeve, and Joe.
Donna and her husband Milt built a life filled with family, love, and fun. She carried on the legacy of a beautiful life when Milt passed in 2015. She continued to surround herself with family and her dear friends.  Donna enjoyed travelling especially to St. Martin and in recent years she and her daughter, Debbie, went on numerous adventures.
Donna brought an energy to the room that was unmatched. She was strong and independent with grace and love. Donna treasured her three children and their families. Her grandchildren were her pride and joy.  She made them laugh and feel loved. Donna's humor was cherished by everyone who knew her.
Donna leaves a legacy of precious memories of the life well lived…of hope and strength.
No services are planned. Please share condolences and expressions of support at gallopfuneralservices.com. Gallop Funeral Services, Inc. was entrusted with arrangements.