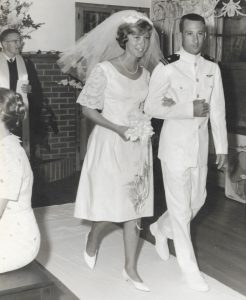 February 3, 1942 – October 20, 2023
KITTY HAWK — Edna Kaye Downing of Kitty Hawk, NC, joined her husband, Jim, and her Heavenly Father in the sky on October 20, 2023.
Jim and Kaye were married for 55 years. Growing up in Chesapeake, Virginia, Kaye graduated from Old Dominion University. She taught at Chesapeake Public Schools for more than 20 years. Jim and Kaye moved to Kitty Hawk Bay in 2000, where they enjoyed the beach, sunsets, friends, and family. In addition to being a devoted mother, wife, and grandmother, Kaye was an avid fisherman and talented cook.
Kaye was born to Laura Belle Burgess and Marshall Sanderlin Burgess on February 3, 1942. She is survived by her brother, Marshall L. Burgess, and his children, Scott Burgess and Deborah Holloway. The pride of Kaye's life was her two sons, David Burgess Downing of Kitty Hawk and Christopher Van Downing (including his wife Ashley), and her treasured granddaughter Mackenzie of Lewisville, TX.
Kaye was a member of Kitty Hawk United Methodist Church. A memorial service with a reception is scheduled for 3:00 p.m., Sunday, November 12, 2023, at the church.
In lieu of flowers, please consider donating to KHUMC, 803 W. Kitty Hawk Road, Kitty Hawk, NC 27949.
Twiford Funeral Homes, Outer Banks, is assisting the family with arrangements. Condolences and memories may be shared at www.TwifordFH.com.