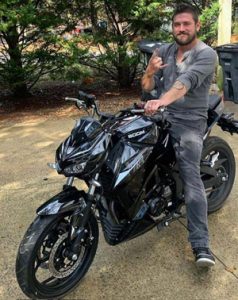 KILL DEVIL HILLS — Emmanuel (Mano) Jacques Wardlaw Guillon, of Kill Devil Hills, NC, died suddenly on July 29, 2023. He was 33 years old.
Born in Paris, France, Mano was the son of Christine Alexia McMaster and the late Olivier Guillon.
Mano lived in Paris until he was 8, spent a short time in Maryland, and then finished the remainder of his school years in Algarve, Portugal. As an adult, he lived in Paris, Washington DC, and San Francisco, finally settling in Dare County, NC, where many family members surrounded him.
Extremely witty and smart, he could effortlessly make anyone laugh. He spoke three languages and was passionate and informed about a wide-range of subjects. Mano was the rare man that could discuss philosophy while working on his motorcycle.
He was a loving and attentive son, a caring big brother to his sister Nina, his brother Charlie's best friend, and he deeply loved his girlfriend, Chris. He always let his family know he was just a phone call away. He loved animals, especially his adopted SPCA cat, Salvador, and enjoyed working for his mom's company caring for dogs and cats. He was an adventurous world traveler and a fun-loving force of nature. He played guitar and could sing Ring Of Fire like no other; he made friends wherever he went, and he will be missed by many.
Mano is survived by his mother, Christine McMaster, brother Charles Guillon, sister Nina McMaster and the rest of his beloved family.
A celebration of Mano's life, with family and friends, will take place at Sandtrap Tavern (300 West Eckner Street, Kitty Hawk, NC 27949) on Saturday, August 5, 2023, at 6:30 pm. All are welcome.
Twiford Funeral Homes, Outer Banks is assisting the family with arrangements. Condolences and memories may be shared at www.TwifordFH.com.