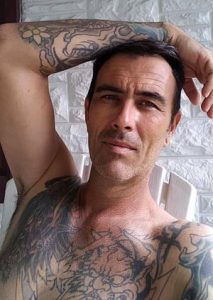 September 11, 1975 – July 5, 2023
KILL DEVIL HILLS — Eric Daniel King, of Kill Devil Hills, NC, born on September 11, 1975, in Portsmouth, VA, passed away on July 5, 2023. He was 47 years old.
Eric's professional journey began at Professional Floors, Inc. in Kitty Hawk, where he worked under the guidance of Virgil Lanning. Eventually, he established his own business, Atlantic Flooring, in Wilmington.
Outside of work, Eric had a zest for adventure. He competed in rail riding in Wilmington, NC, and indulged in motocross in Virginia. He had a deep love for water sports, particularly wakeboarding and kiteboarding. Eric's passion for creativity was evident in his various pursuits, such as building his own rat rod car, expressing himself through art and drumming, and even rebuilding car engines. His fascination with sailing led him to own his own sailboat, nurturing a lifelong dream of sailing around the globe.
Spirituality played an important role in Eric's life. He attended the former Rock Church, now Liberty Christian Fellowship, in Kill Devil Hills, and it was while attending a Statesville, NC Assembly of God that he renewed his faith and gave his heart to the Lord in February of 2023.
Eric was preceded in death by his father, Terry Porter. He will be deeply missed and remembered fondly by his mother, Jacqueline King McCleary of Kitty Hawk; two sons, Eric Shane King of Jarvisburg and Blake Hendricks of Kill Devil Hills; and his sister, Cortney Wise of Kill Devil Hills.
Services to honor Eric's memory will be held privately by the family at a later date. In the meantime, let us cherish the memories we shared with him and find comfort in knowing that he is at peace, forever sailing among the stars.
Twiford Funeral Homes, Outer Banks is assisting the family with arrangements. Condolences and memories may be shared at www.TwifordFH.com.