June 27, 1933 – April 30, 2023
HATTERAS — Gary Shane Austin, Sr., 89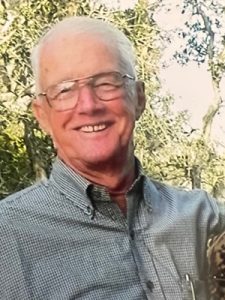 , of Hatteras Village, went to be with Jesus on Sunday, April 30, 2023, after his year-long battle with lung cancer and heart disease, surrounded by his loved ones who will continue to honor his legacy.
He was preceded in death by Shirley Austin, his wife of 65 years; their daughter, Susan Joy Austin; siblings Leonard Austin, Alice Gray, Dixie Balance, Lawrence Lee Austin; his parents, Lawrence Austin and Lovie Austin. He leaves behind his children, Shelva Cox (David Cox), Sheila Mann (Rex Mann), Shawn Caldwell (Jay Caldwell), and Gary Shane Austin, Jr. (Holly Austin); his grandchildren, Gary Mann (Tabatha Mann), Stacy Lamb (Matthew Lamb), Susan Shinn (Joe Shinn), Austin Caldwell (Kala Caldwell), David Cox, Jr. (Katie Cox), Sabrina Polk (Josh Polk), Sierra Bober (Josh Bober), Owen Austin, and Gary Austin; his great-grandchildren, Sydney Mann, Sophia Mann, Saylor Sanders, Summer Sanders, Wesley Shinn, Savannah Lamb, Scarlett Lamb, Archer Polk, Shiloh Polk, Wyatt Cox, and Lilly Nguyen; and multiple nieces and nephews.
In addition to his family, he left behind a great group of loyal and dedicated friends. These friends depended on each other, counted on each other, and were always there for one another. One of his last statements was he couldn't think of anything better than riding in a golf cart with his best friends.
Born on June 27, 1933, in his home at "Ye Olde Pointe" in Hatteras Village, he grew up in a large family, as the youngest of five siblings. Joining the United States Navy at 18 years old, he served his country honorably for four years. Gary then joined the United States Coast Guard retiring from service on June 1, 1983, as a Chief Warrant Officer 4 (CWO4). During his military career, Gary served in the Korean and Vietnam wars. After his retirement from the USCG, Gary and his family returned home to Hatteras Village where he went to work for the North Carolina Department of Transportation – Ferry Division as an engineer. He retired from the Ferry Division on April 1, 2004.
While stationed at Fort Macon in Carteret County he became a lifelong member in good standing of the Crissie Wright Masonic Lodge # 741 in Smyrna, NC.
Like his wife, their love of children and their desire to see the less fortunate have a better start in life lead them to become foster parents, opening their home to more than 20 children in Corpus Christi, Texas. He also coached little league and soccer for many years.
Later in life, he discovered golf. His love of golf kept him active, helped him exercise regularly, and motivated him to keep his 'Popeye' bicep muscles.
For the past 46 years, our father celebrated 2 birthdays every year. June 27 being his natural birthday and February 2 being his first day of sobriety. It never went unnoticed by his family and was always celebrated. Other than his family he considered this one of his greatest accomplishments.
A celebration of life will be held at the Lighthouse Assembly of God on Saturday, May 6, 2023, at 11:00 am. Visitation will follow the service at the Lighthouse Assembly of God Family Life Center.
In lieu of flowers, memorial donations may be made to Hatteras Island Cancer Foundation (PO Box 442, Hatteras, NC 27943) or Hatteras Island Meals, Inc. (PO Box 854, Buxton, NC 27920).
Twiford Funeral Homes, Outer Banks is assisting the family with arrangements. Condolences and memories may be shared at www.TwifordFH.com.