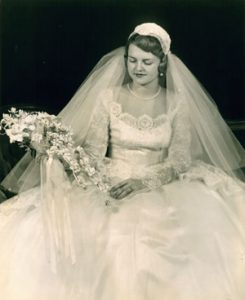 September 8, 1932 – February 23, 2021
MANTEO — Gwendolyn Hopkins Heath, 88, of Manteo, NC died Tuesday, February 23, 2021.
Born in Winston Salem, NC on September 8, 1932, she was the daughter of the late Lora Ella Spencer Hopkins and Ambrose "Pete" Hopkins, Jr.
For 40 years, Gwendolyn was the owner and operator of Heath Pest Control. Active in her community, she was a member of Kitty Hawk United Methodist Church, Dare County Democratic Women, and Democratic Women of North Carolina.
Loving mother, grandmother, and great-grandmother, Gwendolyn is survived by two sons, Aubrey Heath, Jr. of Manteo and Bryan Heath of Kitty Hawk; five grandchildren; and two great-grandchildren.
In addition to her parents, she was preceded in death by her husband, Aubrey Fearing Heath, Sr.; and sister, Polly Hunter; and brothers, Hugh Hopkins and Allen Hopkins.
Gwen was a dedicated mother first and foremost. She treasured her children and grandchildren and embraced every moment with them. She made friends everywhere she went and was a large part of her church family at Kitty Hawk United Methodist Church where everyone loved her and appreciated her hard work and dedication.
The family deeply appreciates and thanks sincerely the outpouring of love from all her friends. It is so very special to always hear "your mom was such a sweet lady", a response heard from everyone that has known or met her.
All who loved her dearly will never forget her tenacity, wit, charm, grace, and undying love and caring for them. She will be sorely missed by everyone who knew her.
A celebration of life service will be held at 3:00 pm, Saturday, February 27, 2020, at Kitty Hawk United Methodist Church with Rev. Colin Snider and Rev. Betsy Haas officiating. Live streaming will be available by visiting the church's Facebook or YouTube page.
In lieu of flowers, please give generously to Kitty Hawk United Methodist Church for a special fund to replace the paraments for new ones to greatly needed which Gwen was "hands-on" with and one of many responsibilities for so many years at "her" church. The current ones will be donated to the Ocracoke United Methodist Church being re-built and desperately in need of.
Twiford Funeral Homes, Outer Banks is assisting the family with arrangements. Condolences and memories may be shared at www.TwifordFH.com.