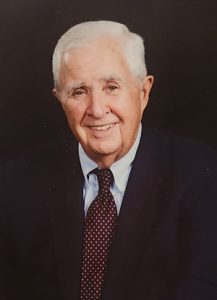 SOUTHERN SHORES — James Edward Sawyer, Jr. of Southern Shores, passed away on August 11, 2023.  Jimmie, as he was known to family and friends, was born on October 22, 1937, in Norfolk, Virginia, to the late James and Martha Lambert Sawyer.
Survivors left to cherish his memory include his wife of 63 years, Louise Bowen Sawyer; daughters, Lisa Slayton and husband, Mark and Bethany Godwin and husband, Derrell.
Jimmie adored his grandchildren and great grandchildren-Brandon Moore (wife-Emily), children Henry and Audrey; Heather Keller (husband, Louis), child-Isaac; and Robert E. Godwin. He is also survived by a brother, Douglas A Sawyer (wife Elaine) of Virginia Beach, and two sisters:  Jeannette Waterfield and Inez Shaw of Norfolk, Va., and numerous nieces and nephews.
Jimmie loved his family, his work, and ocean fishing. He worked designing and installing food equipment for schools and restaurants for forty-three years.  The last 18 years were spent in Northern Virginia working for Chesapeake Bay Seafood House Restaurants, designing and overseeing the construction and maintenance of their restaurants. Reaching retirement age, he and his wife moved to the Outer Banks for him to pursue his other passion—saltwater fishing.
A memorial service will be held at Duck Methodist Church, Duck, NC, on August 21, 2023, at 1:00 P.M.  For the gentlemen attending; please be comfortable; khaki pants, blue short-sleeve shirt, and boat shoes were his favorite form of dress.
A special thank you to Judy for her love and care throughout his last years, Blanca, and Adoration Hospice for their special love and care during his last days. In lieu of flowers, a donation to the American Cancer Society in his memory will be sincerely appreciated. Please share sympathies with Louise and the family at www.gallopfuneralservices.com.