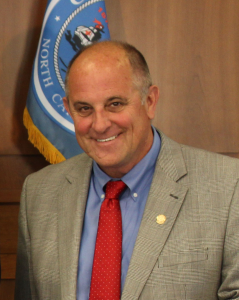 August 11, 1954 – October 18, 2023
James Patrick Tobin, 69 of Manns Harbor, North Carolina passed away Wednesday, October 18, 2023. He was born August 11, 1954 in Berkeley, California. Jim was the son of the late William P. Tobin and Marnelle L. Tobin.
Jim spent most of his career as an entrepreneur. Beginning his professional career at Conam Nuclear where he inspected nuclear power generating stations. During his tenure at Conam, he met his wife Tammy. In 1989, they moved to Tammy's home town where they married and began a commercial fishing business, fishing pound nets for flounder and fished for 15 years before selling the business. During this same timeframe they started Caimen Gardens, a retail nursery. The business quickly outgrew their backyard location and they moved the business to Manteo, NC in 1996 and operated it in that location for 8 years. In 2004, they sold the Caimen Gardens location to CVS and embarked on a 2 ½ year sabbatical sailing the Caribbean aboard their 51' sailboat. Many beaches and countless dives later, they returned to the United States and shortly after arriving home in 2007, an opportunity emerged to operate and own the business at Pirate's Cove Marina.
Jim was incredibly community minded. He served with distinction on the Dare County Board of Commissioners, representing District 1 of Dare County, North Carolina, which includes Roanoke Island and the Dare County mainland. Jim was the driving force in establishing a public-private partnership that resulted in Dare County having access to a privately owned dredging vessel that operates under local control and direction. Before this partnership became a reality, the local watermen could only hope that the U.S. Army Corps of Engineers would have the time and resources to keep the region's inlets open and navigable. As a result of Jim's leadership and determination, the dredge has been a game-changer for commercial and recreational fishermen.
All throughout Jim's life, he was involved in civic and fraternal activities from serving as a Lieutenant/Safety Officer with the Manns Harbor Volunteer Fire Department, president of the Manteo Rotary Club, chairman of the Oregon Inlet Task Force, chairman of the NOAA Monitor Marine Sanctuary Advisory Council, and vice-chairman of the North Carolina Marine Industrial Park Authority. Further, he also served on the Dare County Waterways Commission, Cooperative Extension Advisory Council, Older Adult Services Advisory Council, Transportation Advisory Board, Children and Youth Partnership for Dare County Board, and the Nursing Home Community Advisory Board, where he was an outspoken advocate for the needs and rights of the citizens. He also serves on the county's Nursing Home Community Advisory Council, where he was advocate for the needs and rights of senior citizens and those residing in institutional facilities.
Jim was always known for his passion for the outdoors and always found pleasure cooking the fresh local catch to canning the produce that was grown in his garden. He is survived by his wife, Tammy T. Tobin of Manns Harbor, North Carolina; sisters Carole T. Smith (William) of Lake Havasu City, Arizona; and Janet Tobin of Hercules, California; brother William L. Tobin (Sherie) of El Dorado Hills, California; father-in-law Melvin T. Twiddy, Jr., of Manns Harbor, North Carolina; brother-in-law Melvin T. Twiddy, III (Harriett) of Charlotte, North Carolina; nieces Amanda Twiddy, Allison Twiddy, and Megan Twiddy; and nephews David Combs (Alexandra), Brian Combs, Zack Smith, Matthew Smith, Patrick Tobin, and Daniel Tobin (Allyson).
A celebration of life service will be held Wednesday, October 25, 2023 at three o'clock in the afternoon at the Pavilion at Pirate's Cove Marina in Manteo, NC. A reception will take place immediately following the celebration of life.
Memorials may be made to the Outer Banks Health Cancer Center in memory of Jim Tobin by visiting www.outerbankshealth.org/cancercenter or by calling 252-449-5933. All donations will stay local to support Outer Banks patients battling cancer.
Twiford Funeral Homes, Outer Banks is assisting the family with arrangements. Condolences and memories may be shared at www.TwifordFH.com.