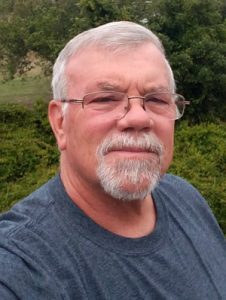 January 25, 1948 – July 23, 2020
KITTY HAWK — One of Jeffery Lee McComb's final text messages to his son, just a week before his passing exclaimed, "Great race! Wow, what an ending!" Followed shortly by, "That's the kind you want to be at." For those who knew and loved Jeff, he could just as easily have been talking about his own life. He ran a great race, that just got better and better as he neared the finish, and everyone who was fortunate to be present got to see one hell of a performance.
Jeff was born on January 25, 1948 to the late Fred and Violet McComb, in Toledo, OH. Living his formative years the first born son of a minster and in the heart of the midwest during the beginning of the Cold War and the Space Race doubtlessly instilled in Jeff the character traits that would define him throughout his life: patriotic, hard working, dedicated, steadfast, and passionate.
Born the oldest of four, including sisters Kathy and Brenda, and brother Brian, Jeff learned to take on the role of a leader at an early age. As the son of a minister who moved often, Jeff learned, by changing schools, how to quickly assimilate himself and make friends. These tools would serve him well in his career after he was graduated from Hardin Northern High School, in Dunkirk, OH. He would later be described by his classmates as affable and fun loving, and that "everybody knew and liked Jeff." Prior to his passing, Jeff recently remarked how much he enjoyed reconnecting with his Hardin Northern classmates at their last reunion, and how he very much looked forward to their next.
After a semester at The Ohio State University, where he self admittedly employed the unwise strategy of never getting out of bed before noon if there was snow or ice on the ground, Jeff went on to enlist in the U.S. Navy on September 24, 1967. His aversion to snow was quickly settled as he attended Aviation Ordinance School in Jacksonville, FL, and then promptly found himself floating on a Naval carrier off the balmy shores of North Vietnam. Upon his return to the U.S., with his (as Susan describes) "sense of humor and exceptional personality," he quickly won the heart of Susan Lynn Berlin, of Jacksonville, FL, whom he married in July of 1971.
Within two whirlwind years, Jeff found himself surrounded by three good natured, well meaning, but often havoc wreaking children, son Larry, daughter Dawn, and son Brian, who at times made Jeff miss the peaceful days of the Vietnam Conflict. The next 15 years would include duty stations in Jacksonville, FL, San Diego, CA, China Lake, CA, Norfolk, VA, and Virginia Beach, VA. Duty often called and Jeff served on multiple long deployments to the Mediterranean Sea, the Western Pacific, and the Indian Ocean in support of such conflicts as the Iran Hostage Crisis, the Achille Lauro Incident, Line of Death operations, and Strike Operations on Libya, However, when he was home he embraced his role as a young father, and shared his passions with his children, taking them to twenty-one inning San Diego Padres baseball games, trips to the mountains for face smashing snow tubing, and marathon camping trips across the continent from Florida to California.
On duty, Jeff's tireless work ethic, attention to detail, and insistence on getting things done right the first time was noticed by his superiors and he quickly advanced to the rank of Chief Petty Officer. It was at this time he was selected to the Limited Duty Officer program and commissioned as an Ensign, on April 2, 1977. Jeff was passionate about his career as a Naval officer, and it is how he defined himself for the majority of his life. It was no surprise to anyone who knew him that when he finally retired from the U.S. Navy, he had achieved the rank of Commander (O-5) and accumulated over 31 years of exemplary and decorated service to his country, including the Meritorious Service Medal with Gold Star, Navy Commendation Medal, and Navy Achievement Medal, among many others
For most men one career in a lifetime would be enough, but Jeff's service to his country did not end upon his honorable discharge from the Navy. He went on to take a position as a senior analyst for DCS Corporation, a large government service contractor. Subsequently, he moved on to a government service position as the Assistant Program Manager of Logistics for Direct Attack Weapons (PMA-201). Jeff continued on in this role until ultimately retiring in August of 2017. Most men begin to slow down as they near retirement, but Jeff was so passionate about the Aviation Ordinance community that his dedication and boundless energy often impressed younger coworkers. Jeff would befittingly go on to be awarded the Meritorious Civilian Service Award, and inducted into the Association of Aviation Ordnancemen (AAO) Hall of Fame, in 2017, for his lifetime contribution to the AO community.
It is well documented the strains and pressures that military families can endure, and Jeff's family was not immune to these pressures. After he and Susan parted ways, Jeff met Cheryl Ann Web, of Norfolk, VA, whom he "swooned" into believing he was an officer and a gentleman by washing dishes just to spend a little extra time with her. After marriage, in May of 1989, Sherry soon discovered she got the officer, but the gentleman had an impressive snoring habit that would go on to rattle the shingles off their Virginia, Maryland, and North Carolina homes.
Sherry persevered, and with this marriage, Jeff's family continued to grow with daughter Tiffany, and sons Christopher and, a bit later, Nicholas.
All three children's upbringing was no doubt greatly tempered from a now well-aged and much mellower version of Jeff as an older father. It was during this time Jeff began his side career as a professional napper. There wasn't a conversation too interesting, a couch too firm, a work desk too cluttered, or a road too winding that Jeff didn't fall asleep on or in. Most considered this just a side effect from his sleep apnea, but insiders were well aware it was more likely the result of overexposure to Neosporin and Simple Green. In Jeff's mind, there were few problems in the world that could not be solved with one or the other.
As he approached retirement, Jeff relished his role as Paw Paw to eleven grandchildren (that we know of): Skyler, Corinne, Ryder, Emily, Reid, Jazmine, Junior, Brooklynn, Allyson, Maddison, and Hunter. All of whom were likely taught their first curse words by hanging out with Paw Paw. (Once a sailor, always a a sailor!) He was fond of games and childish play. As a result each of his grandchildren will forever remain hesitant any time somebody asks them to pull on something, even if it is not a finger. Jeff often could be caught during summers at the family lake house sitting around a table with the grandkids and a deck of cards or a board game. In later years, he enjoyed relaxing on the beach with the girls, go-carting with the boys, and was even available for an impromptu Valentine's date if one of his grandkids got stood up by his parents.
You did not have to know Jeff long to know he was a man filled with passion. Most of that passion was channeled into a lifetime of NASCAR fandom. There was no place he would rather spend a week than in his motor home, parked near a race track, surrounded by friends and family. If asked today what might be his biggest disappointment in life, his answer might very seriously be that he never won the annual Pick 'Em NASCAR pool. Not a bad life if that might be your biggest regret. He steadfastly ran his best race, always taking the high line, all the way to the checkered flag.
Excluding his parents, Jeff is survived by his entire aforementioned and very loving family, including a number of nieces, nephews, and cousins who will dearly miss him at the annual Lake Michiana family reunions. Close family and friends will be gathering on Saturday, August 1, 2020, at 10:30 am, to hold a memorial for Jeff at The Pointe Golf Club, in Powell's Point, NC. An in ground burial with full military honors and escort will be scheduled at Arlington National Cemetery at a later date.
As an expression of sympathy, memorial contributions may be made to The NASCAR Foundation (www.nascarfoundation.org), to help fund the work they do to improve the lives of children who need it the most.
If you would like to share a memory of Jeff, send a condolence to the family, or see a comprehensive review of Jeff's military service record (which was too extensive to list here) please visit https://everloved.com/life-of/jeffery-mccomb/ .
To express condolences to the family, please visit the online register at www.gallopfuneralservices.com. Gallop funeral Services, Inc. was entrusted with arrangements.