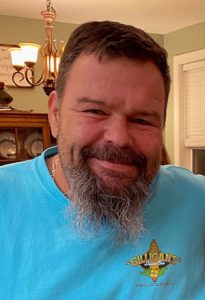 April 13, 1966 – May 9, 2023
MANTEO — Jerry M. Austin Jr., better known as Jay, 57, of Manteo, NC passed away Tuesday, May 9, 2023, at VCU Medical Center, Richmond, VA.
Jay was preceded in death by his grandparents, Maness and Mildred Austin, and George and Ruth Dykstra all of Manteo, NC.
Jay was the son of the late Faye Austin and is survived by his wife Renee; his father Jerry Austin; sister, Deanie Midgett (Timmy); his nieces; Brittney Midgett (Brent Doughtie); Kelsey Oglesby (Jonathan); nephews, Wyatt and Windsor Oglesby; his sisters-in-law Andrea Bonner (George), Delia Riggins (Kevin), Anne High (Gary), Joan Meisel (Rick), Charlotte Schmidt (Steve), and Mary Park (Brian), brother-in-law Montgomery Barber, along with the Barbers nieces and nephews, Logan Bonner, Lea Bonner, Laney Bonner, Cameron McManus, Conner McManus, Tyler High, Jordan High, Ryan Meisel (Ronya), Calvin Schmidt, Alexis Schmidt, Sydney Park, William Park, Kyle Park, Montgomery R. Barber, Jackson Barber, and his step-father Gene Everett. He is also survived by his beloved dog Skol.
Jay was married to the love of his life, Renee, for 34 years having dated since she was 15. Renee stood by his side through thick and thin. One of his first jobs was working for Jimmy Austin at Austin's Fish Company in Nags Head. In 2003, Jay and Renee opened Austin's South Island Seafood in Rodanthe. Through the store he made lifelong friends that become more like family.
Jay had the personality to make friends no matter where he went. He never met a stranger and was always willing to lend a helping hand. He was a truly great and selfless man whose passing has left an unfillable gap in the hearts of many, but his love will be forever felt by his family and friends.
Jay loved spending time with his dog, Skol. They loved their afternoon rides in Jay's truck through Manteo (pit stops at the Shrine Club to see the boys for treats) and Manns Harbor. One of Jay's favorite pastimes was riding his Harley and the special trips to Daytona Beach and Sturgis. Jay was a member of Manteo Masonic Lodge #521 A.F. & A.M. and Sudan Shriners.
A memorial service will be held at 2:00 pm on Sunday, May 21, 2023, at Twiford Colony Chapel, Manteo. Immediately following, family and friends will gather at the Dare County Shrine Club to celebrate Jay's memory with plenty of great stories to share. To live-stream Jay's service, visit www.TwifordFH.com.
Memorial donations may be made in memory of Jay Austin to the Dare County Shrine Club (111 Old NC Hwy 345, Manteo, NC 27954) or Outer Banks SPCA (PO Box 2477, Manteo, NC 27954, online at www.obxspca.org).
Twiford Funeral Homes, Outer Banks is assisting the family with arrangements. Condolences and memories may be shared at www.TwifordFH.com.