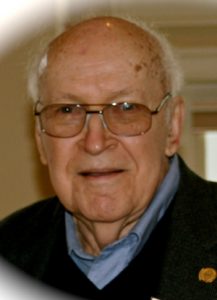 January 21, 1927 – July 23, 2023
John "Jack" Shea was born on January 21, 1927, in Orange, NJ. He was the first son of William and Ellen Shea. He served in the U.S. Army during World War II in Germany. He graduated from Bethany College in West Virginia with a Bachelor of Science degree in Chemistry.
John Shea held managerial/director positions in quality control, quality assurance, and regulatory affairs. As of 1987, he began consulting worldwide for pharmaceuticals, biologics, and medical devices. While working internationally, he had patents with Japanese co-inventors. Jack also served as a member of the Board of Directors for Biodelivery Sciences International. He served as a member of the U.S. Coast Guard Auxiliary for 30 years, where he obtained the rank of Flotilla Commander.
On the Outer Banks, Jack was elected for three terms as Dare County Commissioner; he also served as chairman of the Holy Redeemer Pastoral Council, Southern Shores Fire Department and board member of the Tourist board.
Jack is survived by his wife, Jacqueline Shea; children, Kathleen Rolleri, Dr. Christopher Shea, Theresa Harrell, William Shea, Eleanor DeSocio, and Tom DeSocio; as well as his many grandchildren.
A Mass of the Resurrection will be held at 11 am on Wednesday, July 26, 2023, at Holy Redeemer by the Sea Catholic Parish in Kitty Hawk, NC. Interment will follow at Southern Shores Cemetery. In lieu of flowers, donations in Jack's name may be made to St. Jude Children's Hospital or Wounded Warrior Project. Please share condolences with the family at gallopfuneralservices.com. Gallop Funeral Services was entrusted with arrangements.