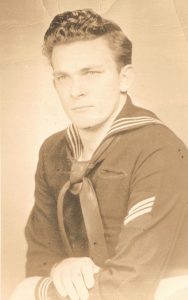 BUXTON – John Lynch Williams, Sr. of Buxton, NC passed away peacefully on November 4, 2023, at Peak Resources in Nags Head, NC. Born December 20, 1932, Johnny was preceded in death by his parents, Vetter J. and the late Sarah Quidley Williams; his wife, Barbara Barnett Williams, and his siblings, Vetter Williams, Jr., E. Jasper Williams, Sr., Stella Baum, and Vickie Midgette.
Johnny is survived by his three children, Sheree Markley, John Williams, Jr. (Gail), Jarvis Williams, Sr. (Donna); his grandchildren Sarah Blount, Joshua Covey (Tatiana) , John L. Williams, III, Benjamin Williams (Maggie), Katie Balance (Asa), Claire Williams, Jordan Sprouse (Ryan), Jacob Phillips, Mia Phillips, and Jarvis Williams Jr. (Logan); great-grandchildren Jordy, John Covey, Elijah, Adayah, Jedidiah, Kasen, Kyler, and Saylor; as well as many nieces, nephews, cousins, extended family members, his Coast Guard and church families, and a host of dear friends and neighbors.
Johnny proudly served in the United States Coast Guard for 20 years. Though he traveled the world from the North Pole to the South Pole- nothing matched Johnny's love for his island home. After retiring from the Coast Guard, Johnny spent most of his time on the water fishing and crabbing, working in his garden, or "coin hunting." His life centered on God, Johnny was a devoted member of the Lighthouse Assembly of God Church in Buxton, NC.
The celebration of John Williams life will be held On Tuesday, November 14, 2023, at 2 pm at Lighthouse Assembly of God Church. Pastor Rob Davis will officiate. Military honors will be rendered by the USCG.  Following the service, friends may greet the family at the Family Life Center directly across from Cape Hatteras Secondary School in Buxton.
In lieu of flowers, the family kindly suggests donations in John's memory to Lighthouse Assembly of God, PO Box 459 Buxton, NC 27920. Food offerings would be gratefully welcomed at the Family Life Center to be shared after the funeral.
Please express sympathies with the Williams family at www.gallopfuneralservices.com. Gallop Funeral Services, Inc. was entrusted with the arrangements.