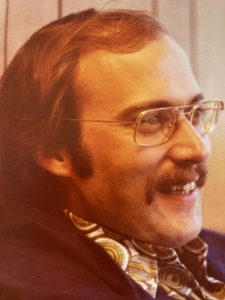 John Wallace Manning, Jr, 78, died on October 1, 2023, at the Currituck Health and Rehab Center in Barco, NC, where he had resided since April 2022, after living for thirty years on Ocracoke Island.
John was born on June 26, 1945, in Hanover, NH, to Leona "Nidi" and John Wallace Manning Sr. The family lived in Connecticut for several years, then settled in Lakewood, OH. John graduated from St. Edward High School in 1963, followed by two years at Borromeo Seminary. He enlisted in the Army, serving from 1965 to 1969, with tours in Vietnam and Germany. In 1972, he graduated with a BA in communications from Ohio State University.
In the Cleveland area, John drove for the Jones Transfer Company, earned a glider pilot license, joined his brother, Michael, in a silver jewelry-making venture, developed carpentry skills, and painted striking wall graphics. In his love for the Great Lakes, he spent a summer as a crew member on an iron ore freighter and fished Lake Erie for perch and walleye.
John moved to Ocracoke Island around 1990, where he established a woodworking shop to make sand-blasted signs for area homes and businesses. The dozens of beautiful signs now gracing the island remain his legacy. Later he spent several years managing the facilities at Howard's Pub, the island's largest eating establishment. After thirty years of a life he loved, John suffered a stroke in 2019. When he needed additional care, he moved to the Barco care facility. John leaves behind a close-knit community of friends on Ocracoke.
John is survived by his six sisters: Susan Purcell (James), Seattle, WA; Martha Membrino (Joseph), Cooperstown, NY; Maureen, NYC; Mary Purcell (Joseph), Singapore; Jane Tushar (Daniel), Sammamish, WA; and Elizabeth (Michael "Casey" Ryan), Avon, OH; and by 13 nieces and nephews and 29 great-nieces and great-nephews. John is predeceased by his parents and his brother, Michael, who died in 1983.
A private family service will be held. Donations in memory of John may be made to the Ocracoke Volunteer Fire Department, 822 Irvin Garrish Highway, Ocracoke, NC 27960 [www.ocracokevfd.org], where John served as firefighter and later as captain. Please leave condolences to the family at gallopfuneralservices.com. Gallop Funeral Services, Inc. was entrusted with arrangements.