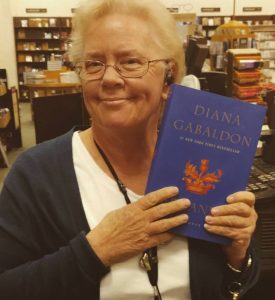 KILL DEVIL HILLS — Joyce Mildred Edelin, 75, of Kill Devil Hills, NC passed away at her home the morning of September 18, 2023, surrounded by her family. Joyce came to the Outer Banks back in October of 2018 to retire peacefully from the hustle and bustle of DC area traffic…only to be flabbergasted by the long lines of cars coming over the Wright Bridge on any given Saturday.
Born August 6, 1948, in Washington, DC, Joyce spent the majority of her life in Maryland, living as a true Marylander – eating crabs, watching the Redskins, and complaining about the traffic (see above). While a good portion of her adult life was spent in an office, she was able to finally make money off her hobby as an avid reader, working for many years at B. Dalton, and then Barnes & Noble. Never did her family think that reading so many books would finally pay off, yet here she was!
Her three children and five grandchildren will now and forever utilize the many things that Joyce taught them in her time in Earth, including (but not limited to):
· The delicious qualities that make a good pink dip (the key is the garlic salt)
· You can never truly have enough books, regardless of the space you have for them – there's always room for more somehow.
· Exactly how to make stuffing for Thanksgiving, and how much better it is the next day
· Regardless of how your marriage turns out, you can still end up with a pretty good batch of kids and grandkids.
· The team will never be as good as the one that won in 1982… or 1987… or 1991…
· Hold on… I'm pretty sure we can take another five boxes of books off your hands.
A private celebration will be planned in the future. The family asks for donations to be made in her name to the American Cancer Society. Please share condolences at gallopfuneralservices.com. Gallop Funeral Services was entrusted with arrangements.