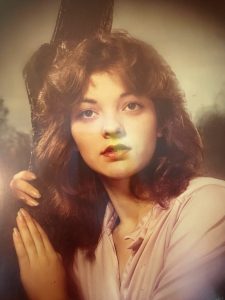 July 12, 1963 – January 10, 2023
NAGS HEAD — Kelly Kristine Bragg 59, of Nags Head, NC died on the morning of Tuesday, January 10, 2023, peacefully at home.
Kelly was born in Connecticut on July 12, 1963.  She was the daughter of the late Oneda Leamer Burnfield and Russell C Krenciprock Jr.  She was raised in Niles, Ohio moving to the Outer Banks in 1989.
Throughout her life, Kelly worked in the construction and service industry.  She was also a phenomenal florist and a school bus driver.  Those were probably the best-behaved bus riders ever!!
Kelly was most likely to be found outdoors.  She loved the beach and playing in the dirt.  She was always planting the most smell-good roses, crepe myrtles, and kissing flowers just to name a few.  She made sure all the grandbabies knew that roses bite.  She preferred animals to people and always had a handful of critters running around including her baby, Toby an African Gray Parrot.  She absolutely loved super bright colors, anybody that knew her for sure had to think she was color blind.  Kelly loved playing cards, dice, and backgammon with her family.  She thoroughly enjoyed riding her Harley and letting her creative juices flow when being super crafty.
She always spoke her mind, sometimes too often, and was as stubborn as a mule.  She had an infectious smile and a laugh you could hear from a mile away.
Kelly is survived by her two daughters, Sheila Bragg (Adam Hyler) and Brandy Teague (Dale); four grandchildren; Nina, Lily, Oceana, and Koral.  Siblings Elon Woodyard (Mark), Ed Courim (Jenn), and Robin Courim.  Nieces; Shae and Rhea.  Nephews; Eric, Troy, and Levi.  Her best friends Annette Clover (Chucky) and Robin Burnside.  Also survived by the love of her life and best friend, Rob Bragg.
In keeping with her wishes, there will be no service.
To plant a tree in memory of Kelly or send flowers to the family, please visit www.TwifordFH.com/send-flowers.
Twiford Funeral Homes, Outer Banks is assisting the family with arrangements. Condolences and memories may be shared at www.TwifordFH.com.