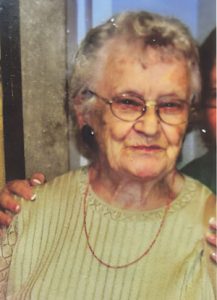 September 17, 1928 – August 6, 2023
WANCHESE — Lillie Daniels "Doll" Gray was welcomed into her heavenly home on August 6, 2023. She was 94 years old.
Doll was born in Wanchese, NC, to the late Ivy Ethelbert Daniels and Edna Simpson Daniels. She was named after her grandmother, Lillie (Mom) Daniels. In addition to her parents, she was preceded in death by her brothers, Carmichel "Mick" Daniels and Willie Gert Daniels.
Doll is survived by her sister, Ouida "Wheat" Young, and her three "boys," Walter "Wally" Gray (Sylvia), Terence "Terry" Gray (Jane), and Gary Gray (Patty). She was the proud grandmother of Jeff, Jennifer, Katie, Terry, Jr., and Molly. Doll's family grew with the addition of her great-grandchildren, Madison, Jeff, Mackenzie, Allen, Bella, Abbie, Brynlee, and Fisher. Also surviving are numerous nieces and nephews whom she loved very much.
Doll was the owner of Snow Bird Drive-In, which is still in operation today, under new management. She was very active in her community, serving as Postmaster in Nags Head, NC. Just about every newborn in Nags Head was weighed at the Nags Head Post Office.
She continued to serve her community, being elected to the Board of Commissioners and as Mayor Pro Tem of the Town of Nags Head. In 2007, Doll received The Lightkeeper Award. She was the great-granddaughter of Peter Gallop, the longest-serving lightkeeper of the Bodie Island Lighthouse.
Doll was a founding member of The Ark Church, where she faithfully attended until her illness no longer allowed.
The family wishes to thank Cypress Manor Nursing Home and Peak Resources – Outer Banks for the care Doll received during her illness.
A funeral service will be held at 11:00 am on Thursday, August 10, 2023, at The Ark Church, with Rev. David Daniels officiating. Private burial will take place in the family cemetery in Wanchese.
Twiford Funeral Homes, Outer Banks is assisting the family with arrangements. Condolences and memories may be shared at www.TwifordFH.com.