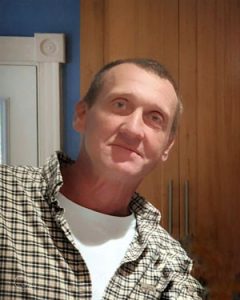 September 22, 1969 – October 23, 2020
KILL DEVIL HILLS — Lonnie Douglas "Whitey Whitman" Merrell, 51, of Kill Devil Hills, NC passed away unexpectedly on October 23, 2020.
A native of the Outer Banks, Doug was the son of the late June Gray Perry and Rupert Parker Perry.
Doug leaves behind two children, Sarah Elizabeth Lueking and Parker Dean Rogerson; siblings, Milton Boyd (Dianne), Michael Merrell (Pam), Ronnie Merrell (Patti), Glenn Perry (Lorianne), Susan Perry, Brian Merrell, and Rupert Perry, Jr. (Margherita); two aunts, Lynn Gray and Valerie Daniels; three nephews, Shane Perry, Zach and Trent Barksdale; three nieces, Ashley Ellender (Joe), Bailey Farr (Chris), and Kirsten Merrell; close cousins Tiffany, Kevin, and Beverly Gray; and a host of other family members who loved him dearly.
Doug was kind and outgoing, always ready for adventure. His upbeat personality and joking manner always put a smile on your face. He never knew a stranger and when you crossed paths, you had a friend for life. Doug loved to cook with his siblings and enjoyed being surrounded by family. He was always willing to lend a helping hand and was no stranger to hard work. When working, he gave his all and he was good at what he did. Doug had the privilege of working for Jimmie at Summerells Concrete Work for over the past twenty years. Doug's heart of gold is what will be remembered most.
"As water reflects a face, so a man's heart reflects the man." Proverbs 27:19
In addition to his parents, Doug was preceded in death by his maternal grandparents, Walter and Evelyn Gray; paternal grandparents, St. Elmo-Elmer and Nellie Merrell; uncle, Walter Gray Jr.; aunt, Liz Hemilright; brothers, Wilton J. Boyd and Walter Earl Boyd; and his beloved nephew, Austin W. Boyd.
A memorial service will be held at a later date.
In lieu of flowers, the family asks that donations be made to Outer Banks Dare Challenge (PO Box 123, Wanchese, NC 27981 or online at www.outerbanksdarechallenge.org).
Twiford Funeral Homes, Outer Banks is assisting the family with arrangements. Condolences and memories may be shared at www.TwifordFH.com.