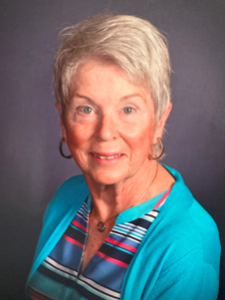 December 29, 1944 – September 24, 2023
Margaret Karen Tiller Landreth (Peg) passed peacefully from complications of Alzheimer's on Sunday, September 24, 2023. Born in Gallion, Ohio on December 29, 1944, to the late Jim and Mable Tiller, Peg was the fourth of five children. She was a graduate of Gallion High School, then proceeded to Nursing School at Riverside Methodist Hospital in Columbus, Ohio. After a few years of nursing Peg decided it was time to travel the world and became an American Airlines Flight Attendant. Once she had the opportunity to travel domestically and internationally, nursing was calling her back. Although she worked in many areas of nursing. The Emergency Room was her passion. Peg continued to pursue her nursing and business degrees. Peg is a graduate of UNC-Chapel Hill with a Bachelor of Science in Nursing (C'97) and a graduate of North Carolina Weslyn College with a degree in Business (C'98).
Peg loved being a wife, a mother, a mother-in-law, a grandmother, and taking care of everything around her. Her over thirty years of nursing made her an incredible caretaker. She was the best nurse, mother, and wife you could ask for. Her nursing stories always provided interesting dinner conversation; you better have a tough stomach if you were having dinner with the Landreth's!
Peg loved the ocean, the smell of salt air, and fishing. She was constantly teased because everyone around her would catch fish and she somehow would get "skunked" even when the person fishing next to her would be pulling in "doubles". She never got the marlin she always dreamed of catching, however, fishing in bill fishing tournaments with her daughter and best friends was always a yearly highlight.
Peg was not afraid of a challenge. She was an expert windsurfer. When her daughter Kendra (Landreth) Maxwell called one day and said, "Why don't you do a triathlon with me", she didn't hesitate. At 60 she completed her first triathlon, which resulted in multiple additional races and medals over the next decade. Triathlons led to competing in the North Carolina State Games up to age 70. She won numerous medals and trophies for speed walking, swimming, and bicycling. Of course, she believed that having the best road bike on the market was only appropriate making her husband, Jeff Landreth, cringe when he would receive the credit card bill.
When Peg was not training for triathlons, North Carolina State Games, or riding with her Silver Riders bike group at the Outer Banks, NC, she was intensely quilting blankets for her two granddaughters, Haydin and Harper Maxwell. She would make a quilt for each season and holiday and was really excited when she learned to embroider with her new sewing machine, again causing Jeff to cringe when he saw that credit card bill. But in typical fashion, she had to have a great sewing machine! "They just sew better" she would say. When her
son-in-law Shane Maxwell and Kendra and Haydin and Harper would come visit, she would always call Shane to get his pre-order of chocolate sweets and goodies for the visit. Often the brownies would even still be warm upon their arrival.
With all these passions, her love was for her family-both her immediate and extended. She would always keep close tabs on her siblings and what her nieces and nephews were doing. You could always get a great update on the extended family whenever you talked to her. Peg was a devoted wife to Jeff, always putting up with his practical jokes and humor. Peg would just roll her eyes and say "Oh Jeff" with a giggle. Peg and Jeff just celebrated their 51st wedding anniversary on August 19, 2023. Over the past 51 years, they moved all over the United States and finally settled in North Carolina in 1986. This is where she fell in love with the Outer Banks, retiring there 20 years later.
Although living at the Outer Banks, she hardly missed an event for her granddaughters. She was arguably their best cheerleader. After twenty years of living at the Outer Banks, Peg and Jeff relocated to be closer to the family to ensure they didn't miss an event. She would always tell Haydin or Harper before a competition, "Now go kick some butt!"
Haydin and Harper love their grandmother deeply and realize how important she was and is in their lives. Her memories will be cherished for a lifetime. So many laughs, sugary treats, and special moments. Haydin and Harper inherited Peg's quick wit, competitiveness, and caretaker heart.
Peg leaves behind her loving husband, Jeff Landreth of Raleigh, NC and her daughter Kendra L. Maxwell and son-in law Shane Maxwell of Rolesville, NC, her two granddaughters, Haydin Maxwell and Harper Maxwell, three brothers Charles Tiller (Joy, deceased), Fred Tiller (Kay), and Jim Tiller (Francis), and sister Zoe Tiller, as well as many nieces and nephews.
As per Peg's request, no formal funeral or memorial service will be held. A small gathering of close friends and family to celebrate Peg's Life will be announced in the near future. In lieu of flowers the family asks for consideration for a donation to the Alzheimer's Association or Tunnels to Towers Foundation.
Twiford Funeral Homes, Outer Banks is assisting the family with arrangements. Condolences and memories may be shared at www.TwifordFH.com.